The Parque de Pena
After having visited the Palácio de Pena, we turned our attention to the park which extends behind and above it. A vast network of paths snake through the forest, leading to special buildings, statues, gardens and lookouts. All of it was once for the pleasure of the royal court… but now it's ours! (As long as we pay admission and agree to follow the rules.)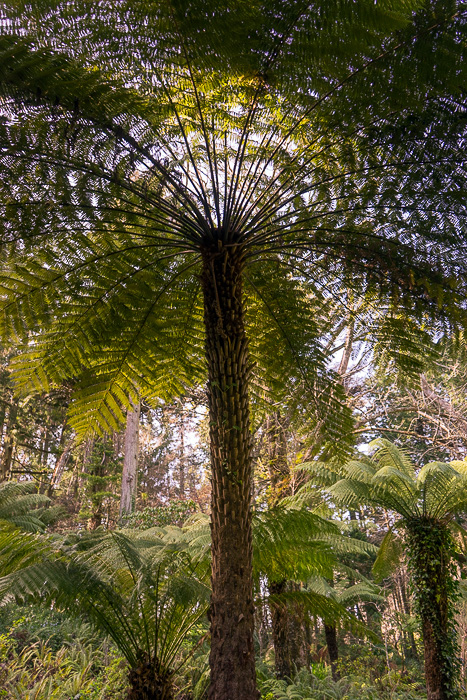 The Pena Palace had been remarkable, but we enjoyed the park even more, and there's a simple reason for that. The moment we stepped foot onto the first trail, the crowds which had been aggravating us all day vanished. It was as though there were an invisible force field only Jürgen and I could step through. My suspicion is that visitors to Sintra are almost exclusively day-trippers, and don't have time for anything outside a very strict itinerary. The palace: definitely; the park, probably not.
BOGIAD
Their loss, because the park is wonderful. We plotted out a route that would take us to High Cross on top of the mountain, and then back down to the park's lower entrance, at the base of a cascading series of lakes. Our first stop, though, was at the Statue of the Warrior, an anonymous knight cast in bronze who keeps watch over the palace. Just underneath his baleful gaze, we found the Table of the Queen, where Dona Amélia of Orléans would picnic during strolls.
The view from the High Cross was pretty good, but not quite as wonderful as we had expected, considering that it's the highest peak in the park. A better view was to be found a little lower down the slope, from "Saint Catherine's Heights", which was the Queen's favorite viewpoint. So much did she love this spot, that they carved into the rock a simple throne for Her Majesty, complete with decorative tiles.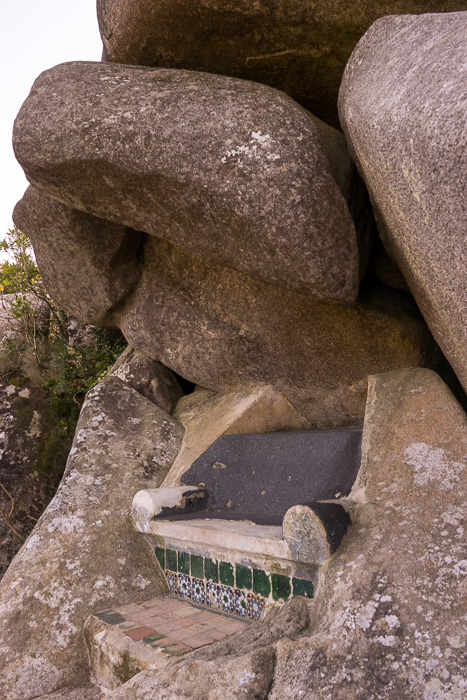 While descending, we visited the Grotto of the Monks, a reminder that Pena had been a monastery, before it was purchased by King Ferdinand II. This was a small system of caves used by the monks for meditation.
Our favorite section of the park was the Queen's Fern Valley. Verdant and lush, this valley is home to innumerable ferns imported from around the world, which are fed by a small stream flowing downhill. There are stepping stones, benches, and miniature bridges, and with the sunlight filtering in through the trees, it wasn't hard to imagine the Queen spending hours here.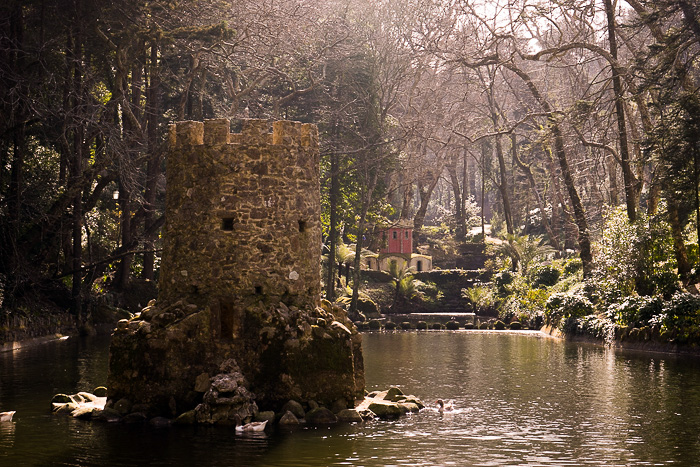 Before emerging back onto the road, we reached the Valley of the Lakes, which is a set of five artificial pools of varying sizes, one after the other. Found in the center of the final two lakes are a pair of duck houses, which I had assumed were merely decorative. When the first duck came waddling out of his house and splashed into the water, I laughed out loud.
Even if you're pressed for time, I wouldn't skip out on a tour of this park. The walk from the palace ramparts down to the "Entrance of the Lakes" is easy, and you'll have the chance to take some amazing pictures of the palace.
Locations: Entrance of the Lakes | High Cross