The Praia do Ribeira do Cavalo
On the way back toward Sesimbra from Cabo Espichel, we pulled over to check out the beach of Riberia do Cavalo. After realizing that reaching the beach would require a 30-minute walk through the brush, we almost bailed; this was the final activity of our five-day road trip, and we were both tired. But we decided to tough it out… and thankfully so, because this beach was worth it.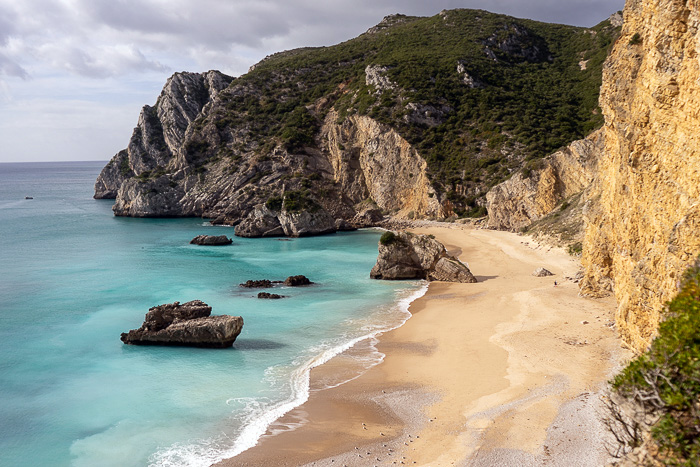 There's a lot to love about the Praia do Ribeira do Cavalo, from its fine yellow sand, to its gorgeous milky-blue water, but its best characteristic is its seclusion. If you want to get here, you have to work for it… the car park is small and far away, and with a few steep, rocky descents, the hike isn't exactly child's play. In fact, I bet very few families with young children even attempt it, which wins the beach a lot of points from us.
It might be different during the summer, because people with boats can park off-shore and swim over. But on this sunny day in early January, we were nearly the only people on the sand. The only others were three young guys, one of whom got completely buck naked before strutting around on the sand. For real. ("Jürgen, I think we need more pictures of … the beach. Yes, use the zoom lens.")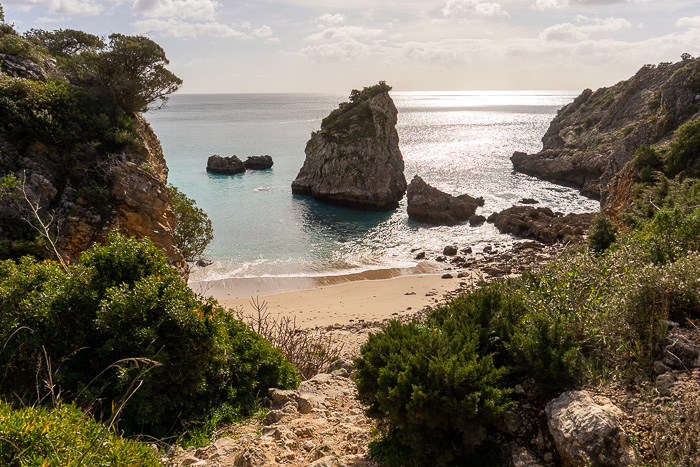 We laid out on the sand longer than we had planned; it was nice with the sun and the calming sounds of the waves, without any traffic noise or loud groups of people. Also, we weren't too enthused about the looming hike back to the car. I imagine a lot of people stay longer on this beach for exactly that reason. But eventually we had to head back home; this had been a perfect way to end our first big trip away from Lisbon.
Locations on our Map: Praia do Ribeira do Cavalo
–Book Your Portugal Rental Car Here