Although we spent two nights in Sesimbra, a beach town on the western side of the Serra de Arrábida, we never really had a chance to explore it in depth. We arrived late into the first evening, after touring the Arrábida National Park and sampling the wines of Azeitão. And our second day was spent driving out toward the west, to visit Cabo Espichel.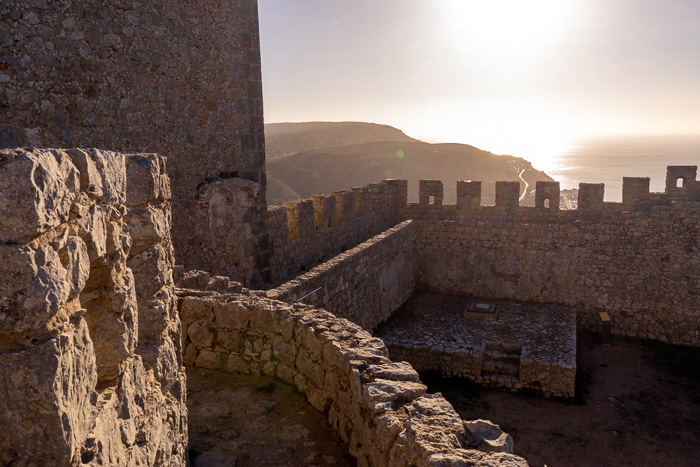 While in Setúbal, we had lived in luxury, in the boutique RM Guesthouse. But in Sesimbra, we had booked the most budget option available… and ended up in a place which was like an escape room in reverse. Without encountering a single person, we had to utilize a series of codes and automated phone-calls to get past three locked doors and into our room. It would have been fun, if it wasn't so weird and creepy.
Our first destination in Sesimbra was the castle which looms atop a hill just to the west of town. It might be known locally as the "Moorish Castle", but there's evidence of human history here since prehistoric times. At the top of a bluff with views stretching over the Sado Estuary, the Atlantic Ocean, and the Tagus River, this was a natural location in which to settle down. Romans and Visigoths lived and traded in the area, though the bulk of the original constructions were the work of the Moors.
Today, there's not a lot to do at the castle; unlike its brothers in Setúbal and Palmela, it hasn't been re-purposed as a high-end hotel, or even restored. The castle was severely impacted by the 1755 earthquake, and much of it is still in ruins. One thing that can't be ruined, though, is the view of Sesimbra, laid out below.
Now it was time to get into town. Sesimbra had looked fairly impressive from the castle, so we braced ourselves for a big afternoon of sight-seeing… and were disappointed when the town turned out to be a lot smaller than it appeared: a tiny nucleus surrounded by layers of resorts, hotels and cheap housing. We visited the Santiago Fort which is strategically positioned in the middle of the beach, wandered the cobblestone streets of the old town, got a late lunch in one of the many exchangeable restaurants hoping to lure one of the few winter tourists, and then we were done with Sesimbra.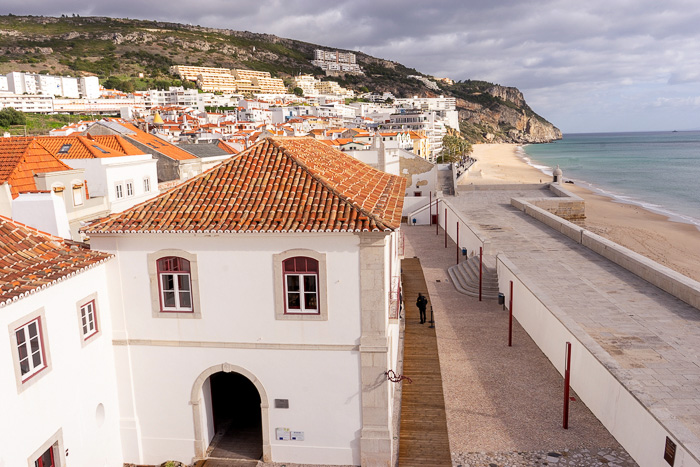 The beaches looked attractive, and if the sheer number of hotels is any indication, Sesimbra must have a totally different atmosphere in the summer. We liked the off-season feel of January, though. Overall, it was a nice place to spend a couple days.
Locations: The Moorish Castle | Fortaleza Santiago
–Book Your Sesimbra Hotel Here