Stretching between the cities of Setúbal and Sesimbra, the National Park of the Serra de Arrábida was established in 1976. A lushly green region of mountains, cliffs, beaches, hidden convents and winding roads, the Serra de Arrábida is the perfect place for a scenic drive… if the weather is playing along. Or even if it's not.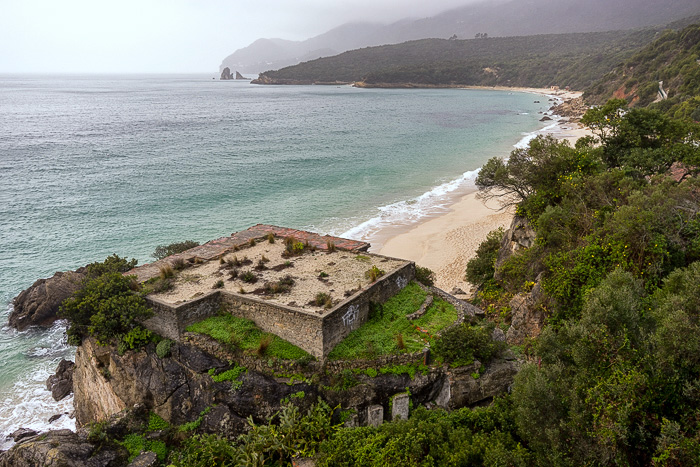 We knew we were in trouble minutes after waking up in the RM Guesthouse, the luxury hotel which was hosting us in Setúbal. As we ate breakfast, we monitored the weather. Rainy and windy. If anything, it was getting worse. Not the best conditions for a jaunt through the mountains, but we didn't have much choice.
So, we got on the road. And although we would certainly have preferred sun, the thick fog crawling rapidly over the hills provided plenty of beautiful scenes. The park is about 30 kilometers in length, bordering the Atlantic Ocean, and we chose a circuitous route that brought us first along the coast before heading upward into the mountains.
The beaches, such as the Praia da Figuerinha and Praia dos Coelhos, looked incredible. Naturally enough, there was nobody here today, but with Lisbon's relative proximity, I imagine the beaches of Arrábida fill up during the summer.
Driving into the hills, we were taken totally off-guard by the Convento da Arrábida, which dates from the 1500s. When we tried to get inside, were disappointed to learn that visits have to be arranged in advance, through Lisbon's Fundação Oriente. We hadn't researched this trip to Setúbal nearly enough, damn our lazy bones!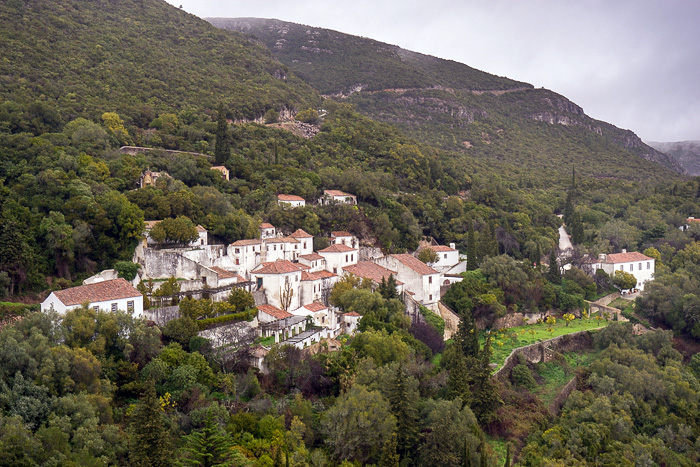 The rain never let up during our day in the Arrábida, but we still forced ourselves to get out at a few viewpoints and take some pictures. We might have even stopped at the same place as James Bond, at the end of Her Majesty's Secret Service, when his new wife Tracy is shot dead — this scene was filmed in the Serra de Arrábida, and shows the beauty of the region almost as nicely as our photographs.
Locations on our Map: Praia da Figuerinha | Convento da Arrábida