Rivaling the nearby Praça do Comérico in history and prestige, is the Praça do Rossio. Officially named Praça de Don Pedro IV, in honor of the former king who stands atop a massive column in the plaza's center, Rossio has been at the heart of Lisboan life since the earliest days of the city.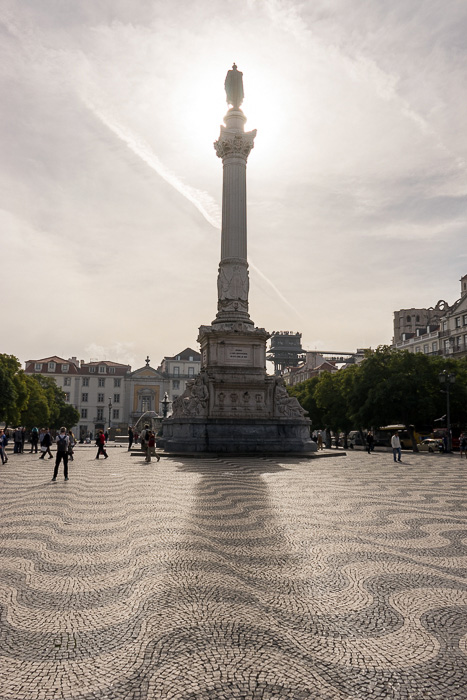 The buildings which once surrounded Praça Rossio were all destroyed by the 1755 earthquake, and the plaza was completely redesigned as a centerpiece of the new Pombaline city. "Pombaline" is a term we've encountered a lot during our short time in Lisbon. It refers to the Marquis of Pombal, who was Prime Minister in the mid 1700s. The astute Marquis was already extraordinarily influential over King José I, and his power only grew after the disaster. Under his leadership, central Lisbon was totally transformed, with the world's first earthquake-proof buildings arranged in a rational pattern of right-angled blocks.
The statue of Don Pedro IV was erected in 1870. After the explanation of "Pombaline", I'm loathe to get into more facts, but this guy is another fascinating figure in Lisbon's history. Prince Pedro was just a child when the royal court fled Lisbon for Brazil in 1807, in the face of the Napoleonic invasion. He grew up to lead Brazil in its fight for independence, and became that fledgling country's first emperor. Although he suffered severe bouts of epilepsy his entire life, Pedro was handsome and an unrepentant ladies man, constantly involved in affairs that scandalized Brazil and Portugal. He was also a liberal at heart, and would return to Lisbon in 1832 to fight against his absolutist brother Miguel, eventually freeing his birth country from the yoke of autocracy.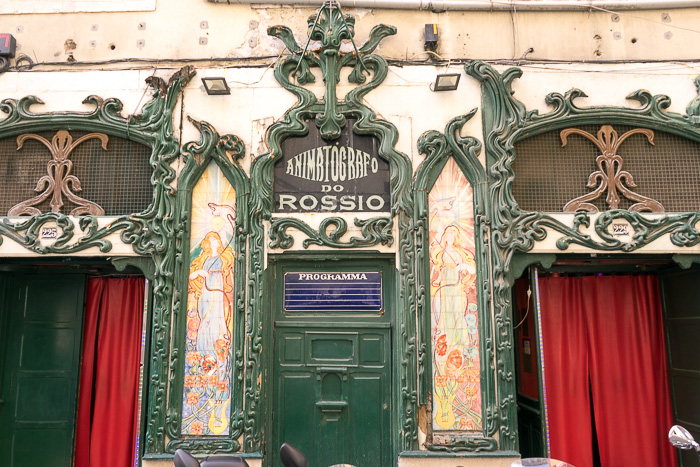 Phew. Alright, no more history! Look, there's a sex shop… let's check that out. Really, we could not believe this beautiful Art Nouveau building, advertising peep shows. The sign says "Animatografo do Rossio", and we'd learn later that it was one of Lisbon's first theaters. It opened in 1907, and turned its focus to peep shows and porn in 1994.
Praça do Rossio is crowned by the National Theater, and large fountains punctuate both its north and south ends. The pavement is laid out in a dizzying wave pattern, which might make you sick if you concentrate too much upon it. Not everything is beautiful, of course; we were approached at least five times by guys selling hash, and there's a McDonald's on the corner. (A snobbish note to the many tourists we saw inside the McDonald's: you're in Lisbon! What are you thinking?!)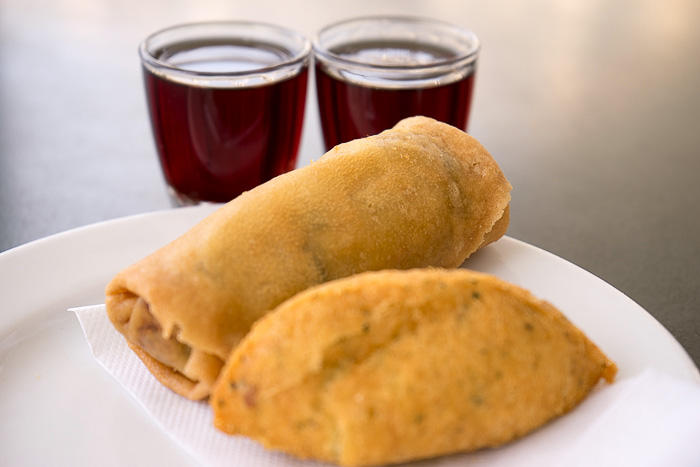 There are a couple classic establishments found on Praça do Rossio, including Cafe Nicola on the west, and Pastelaria Suica on the east. However, the price lists sent us scurrying away from both. Instead, grabbed seats at the Tendinha do Rossio, found on the southern end of the plaza. For three bucks, we ordered pastel de bacalao (cod cakes) and small glasses of ginja, Portugal's famous cherry liquor. An excellent place to relax, and take in Praça do Rossio in all its glory.
Locations: Praça do Rossio | Tendinha do Rossio