Saturday Shopping in Chiado
When Lisboans want to shop, they head to the neighborhood of Chiado, found between Baixa and Bairro Alto. This upscale "middle ground" is known for its historic shops, churches and theaters. Braced for madness, we explored it on a sunny Saturday, two weeks before Christmas.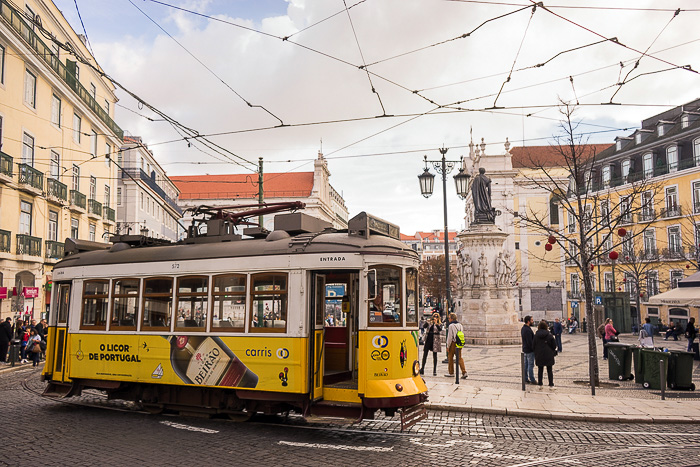 For centuries, this area of Lisbon has been called "Chiado", which means something like "Squeak". We've read multiple explanations for the term. It's because of the sounds made by the carts rumbling down the stone streets. Or, it's named for a legendary tavern which was located here during the Middle Ages. Or it's in honor of the 16th-century poet Antonio Ribeiro, whose nickname was Chiado. I suppose you can just pick your favorite.
We started our day at the Armazéns do Chiado, a multi-story mall which has long served as the unofficial entrance to the neighborhood, connecting it with the streets of Baixa down below. The Amarzéns are connected to Praça Luís de Camões along Rua Garrett: Chiado's main artery, where its most well-known shops are found.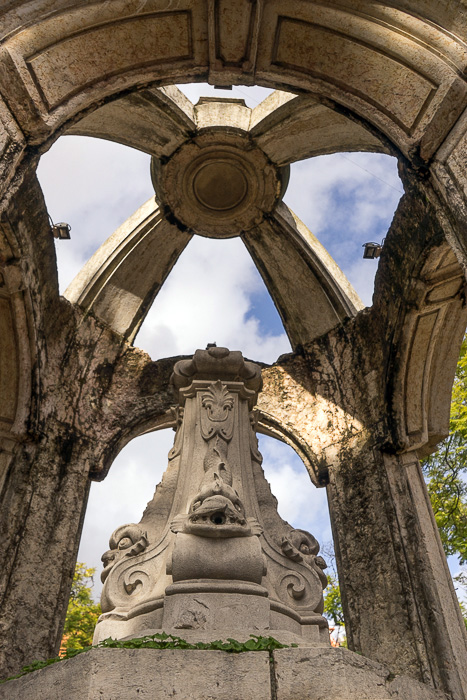 Before negotiating Rua Garrett, we walked uphill to Praça Largo do Carmo, where we found a fountain which dates from 1769, and the remains of the Convento do Carmo. Destroyed by the 1755 earthquake, this convent's ruined shell has been allowed to stand, and is now the site of an archaeological museum. Close by, on Rua Trindades, we spotted the Casa do Ferreira das Tabuletas, whose stunning facade features tiles with Masonic themes.
Looping back to Rua Garrett, we began poking our heads inside some of the shops, many of which make exquisite use of their gorgeous, 19th-century buildings. We saw jewelry shops set inside what might be palace antechambers, dusty book shops which look as old as the tomes they sell, elegant pastelarias drawing salivating crowds to their display windows, and cafes which have served as hangouts for generations of intellectuals.
For this initial tour through Chiado, we didn't actually step foot into very many of these places. Not because we didn't want to, of course, but because the crowds were almost unbearable every step of the way. The sheer amount of people on Rua Garrett, both locals and tourists, was actually entertaining, but we could forget about scoring a table at Cafe Brasileira, for example. One of the city's most celebrated cafes, this was the favorite haunt of Lisbon's beloved poet Fernando Pessoa. His statue still enjoys a privileged seat on the terrace.
We walked down Largo Picadeiro to the 1793 Teatro Nacional de São Carlos, Lisbon's opera house, and then along Rua do Alecrim, where there's a startlingly erotic statue of the realist author José Maria de Eça de Queirós. And we ended at the Praça Luís de Camões, where a traditional tuna student band was entertaining the crowd with dancing and singing.
Here, at Luís de Camões, we did manage to find an open seat in the sun. We ordered bifanas and beer, and leaned back in our chairs, happy to watch the pre-holiday commotion. I don't think we'll be buying any Christmas presents in Chiado, ourselves, but it was fun to be part of the festive atmosphere, even as window-shoppers.
Locations on our Map: Armazéns do Chiado | Convento do Carmo | Casa do Ferreira das Tabulets | Cafe Brasileira | Teatro São Carlos | Praça Luís de Camões
-The Three Best Ways to Subscribe to Our Updates: Newsletter, RSS, Sola