The Cemitério dos Prazeres
Found next to Campo de Ourique at the western terminus of the #28 tram line, the hillside Cemitério dos Prazeres (Cemetery of the Pleasures) just about lives up to its suggestive name. As far as corpse-parks go, this is about as pleasurable as it gets.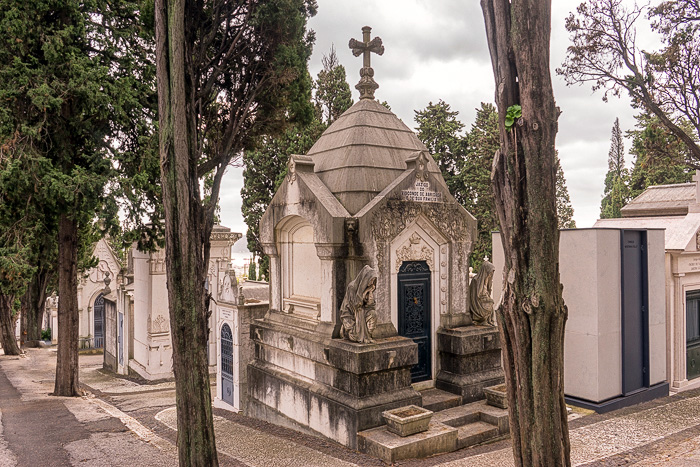 We were visiting on one of those perfect cemetery days, with overcast skies and mild temperatures. Dark enough to complement the somber mood, but warm enough to make being outside enjoyable. We've seen gorgeous cemeteries in Buenos Aires, Savannah, Montreal, and Bolivia, among others, and knew right away that the Prazeres would be joining that list.
This cemetery was created in 1833, following a city-wide outbreak of cholera. Until then, people in Lisbon had preferred to be buried within churches, which probably wasn't the most hygienic approach. I can just imagine the faithful walking down the aisle to receive the sacrament, stones squishing slightly under their weight, releasing little plumes of plague. "Ah, Madam wishes to be buried within the church? Wise choice, Madam! For nothing is holier than allowing your rotting corpse to spread disease to your loved ones."
The Cemitério dos Prazeres mainly served the western, aristocratic side of Lisbon, and the gravestones are accordingly ostentatious. Many, if not most, of the tombs are individual works of art, incorporating statues and macabre decorative details like skulls and crossbones. The cemetery is large, and it almost doesn't matter which of the many paths you walk down, the graves and mausoleums are uniformly grand.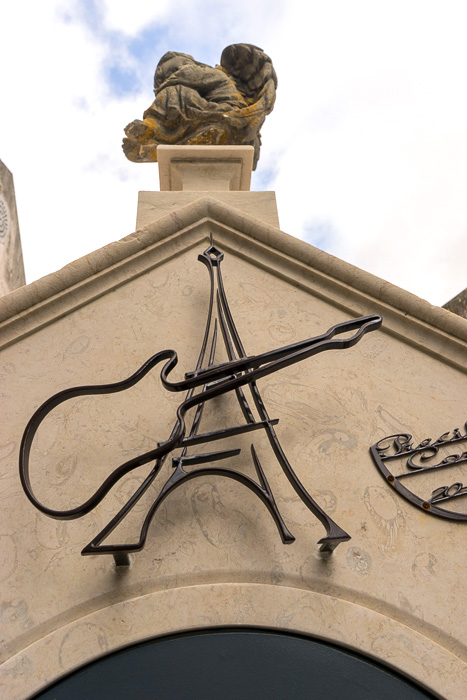 We paused by one bizarre tombstone, which featured a guitar in front of the Eiffel Tower, instead of the standard cross. The coffin was visible inside, signed by hundreds of people, and it wasn't until we saw the concert tickets for The Eagles of Death Metal, that we understood that this was the final resting place of one of the many victims in 2015's terrorist attack on the Bataclan Theater. This girl from Lisbon had traveled to Paris for the infamous concert, but didn't make it home alive.
Once you walk to the far end of the cemetery, you'll find more humble sections for firefighters and police officers, as well as a fantastic view over Alcantâra and the Ponte 25 de Abril.
–Beautiful Lisbon Tile Souvenirs!