Lisbon's Museu Nacional de Arte Antiga
Portugal's premiere art museum is the MNAA, or Museu Nacional de Arte Antiga. With 65 rooms in its permanent collection, thousands of works of art spanning the length of Portuguese history, and ever-changing temporary exhibits, this is the kind of place for which you'll want to have plenty of time and energy.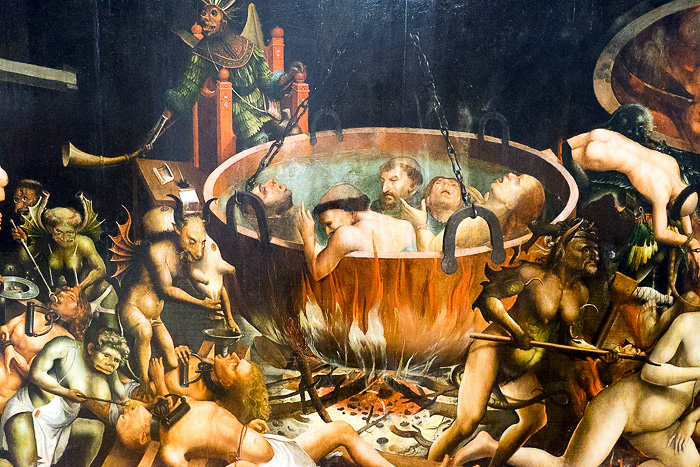 The day on which we had arrived in Lisbon was warm and sunny, so we naturally jumped to the conclusion that the weather here was always wonderful. Not quite. In fact, in December, Lisbon is among the rainiest cities in Europe. Luckily, there are plenty of museums to visit when the skies are stormy, and choice among them is the MNAA. Dating from 1884, this museum occupies the Palace of Green Windows, the former residence of the Counts of Alvor. The focus of the museum is squarely on Portuguese works, although masters from around Europe are also represented, including from Spain and Flanders.
The sheer size of the MNAA is daunting. The problem with such large museums is that you don't know where to start, or what to see. Even the most energetic art lovers will have a hard time maintaining their enthusiasm from Room #1 through #65, and then on into the various temporary exhibits. A garden and a restaurant within the museum provide space in which to recoup some power, but even so.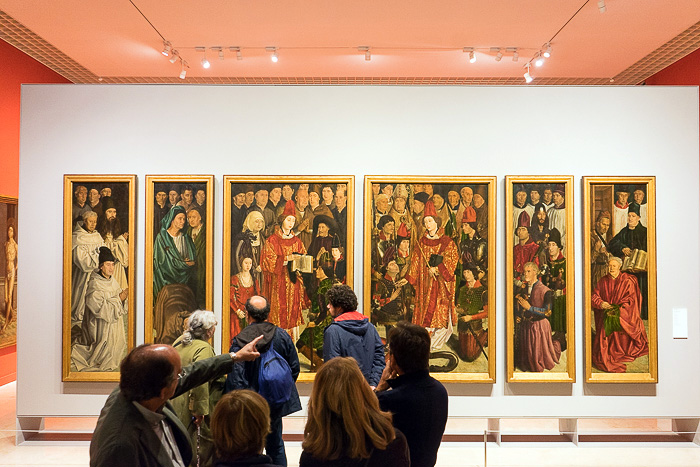 Our strategy was to start at the top and wander through each room, without really fixing our attention on anything, until being pulled to one piece or another. Also, we gravitated toward anything which had gathered a crowd; collective consciousness seems to have an elevated awareness of what's particularly important. This is how we knew to pay attention to The Panels of Saint Vincent which, otherwise, we would have surely missed. Believed to have been painted in the 1450s by Nuno Gonçalves, these panels were re-discovered in the 1880s, and are now considered to be the greatest existing treasure of ancient Portuguese art.
By the time we got to the lower levels, where the rooms are full of ceramics, gold and silverware, jewelry and furniture, we were starting to lose steam, but we managed to push through. And then we arrived on the ground floor, and the collections of European paintings. This was the largest section of all, with some of the most interesting pieces, including works from masters like Diego Velazquéz, Hieronymus Bosch and Albrecht Dürer. We were already exhausted, and upon gazing down this never-ending hall, we both fell to our knees. But mustering a heroic, super-human effort, we forced ourselves to stand back up. "Must… appreciate… ART!!"
–Buy Your Lisbon Souvenirs Online
Museu Nacional de Arte Antiga Photos