The Teatro Nacional São Carlos: Lisbon's Opera House
The Teatro Nacional São Carlos has been staging operas, ballets and concerts since it was built in 1793. It's survived the centuries in remarkable shape, managing to evade the disasters which ravaged the rest of the city, and looks almost the same as it did on opening day.
We came very close to booking tickets to the opera, just so that we could see the inside of the theater. But then, we reasoned, we wouldn't be able to take any pictures! Or at least, we'd have to take them surreptitiously (camera hidden under a coat, cough timed to conceal shutter click), and they'd surely turn out horrible. Luckily, it's possible to arrange guided tours of the theater for a small fee. And we're not really all that into opera, anyway.
After the earthquake of 1755 had devastated the city, there was a lot which had to be rebuilt, from the palace to the … well, to all of Lisbon. Portugal was already struggling, and given the extremely limited budget, you can imagine the funding battles between the city's various interests, all of whom considered their project to be the most important. Can you guess who won? (Hint: rich people always win.)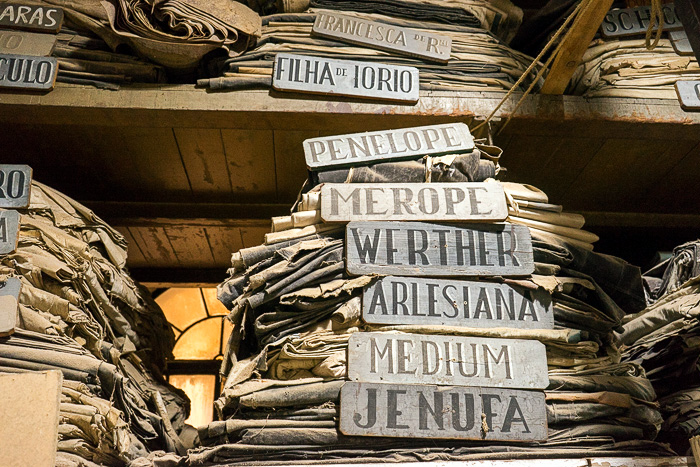 That's right, in the same city which required almost four centuries to build the church of Santa Engracia, the new São Carlos Opera House took less than six months. The Lisboan upper crust will not be denied their entertainment! The building is the work of José da Costa e Silva, a Portuguese architect who had studied in Italy, and his creation is worthy of opera houses across the continent, with seating for over 100 people, an incredible royal box, and excellent acoustics.
The theater was staging a production of Ravel's L'enfant et les sortilèges later that night, so we weren't able to get up onto the stage. But we could check out the view from a few boxes, take a peek backstage, and even go into the workshop, where hundreds of years of equipment been stored. Since this theater has never suffered a fire, it's been able to retain all its records, backgrounds, and props, some of which are hundreds of years old and now constitute an amazing historical document.
Teatro Nacional São Carlos Photos