The Vasco da Gama Bridge and the Teleférico
In 1998, Portugal honored the 500th anniversary of Vasco da Gama's historic journey to India by constructing the longest bridge in Europe. A gondola provides incredible views over the 12.3 kilometer bridge, the Tagus estuary which it spans, and the former pavilions of the 1998 World Expo.
After having walked around the Parque des Nacões, we hopped on the Teleférico, found near the Oceanarium. Despite the large number of people in the park, there was no line at all for the gondola… which wasn't too surprising. This airborne transport must have been useful during the Expo, but it doesn't cover a large distance, and isn't very practical today. But if you're interested in the views, it doesn't disappoint.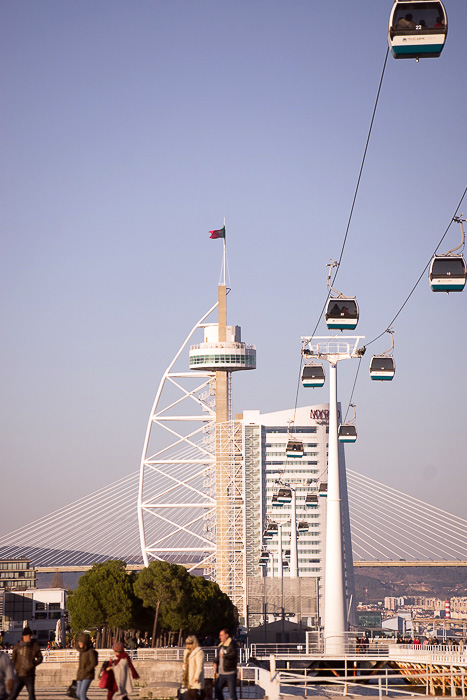 The Teleférico dropped us off near the Myriad Hotel, which is defined by its Torre Vasco da Gama. This tower soars 145 meters into the air, and is capped by a viewing platform. We could hardly wait to get up there, but were stopped at the door to the hotel; apparently, the platform was closed for maintenance, and had been for years.
Defeated, we decided to take a walk along the river. The sun was getting low in the sky, casting long shadows and a golden light over the bridge, and the scene was so beautiful that we quickly got over any disappointment we might have been feeling.
Location on our Map: Vasco da Gama Bridge | Telesféric South Station
-Support us on SOLA and Steemit