After One Month in Lisbon
One month in, and Lisbon was already starting to feel like home. We had adjusted to the culture almost immediately, and our legs were starting to adjust to the hills. Almost every day of our first month was spent outside, exploring some corner of Lisbon, so we had plenty of opportunity to build some solid first impressions.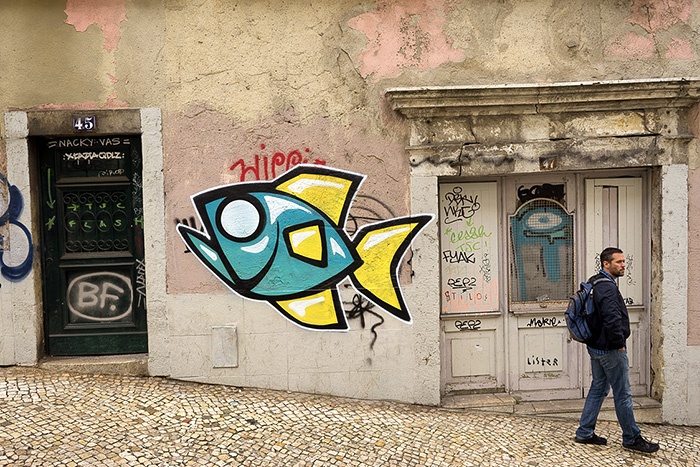 Most Memorable

Mike: On our second day in the city, we took a tram to Belém and visited the Jerónimos Monastery. Built in the 16th century, when Lisbon was among the most powerful cities on Earth, this monastery is correspondingly impressive and I was absolutely blown away.

Jürgen: The first time we took the #28 tram at night; there wasn't any traffic, and the conductor was apparently feeling crazy. Up and down the hills of Lisbon, it was like a roller coaster ride.
Favorite Food

Mike: Probably the most traditional dish in Lisbon is bacalhao, or cod. And it's been delicious almost every time I've ordered it, whether roasted, fried, cooked into a stew or mixed into scrambled eggs. But the classic is the best: very salty and served with potatoes and hot oil infused with roasted garlic.

Jürgen: Anything from the pastry shop… but one can't live from sweets alone, so I would say Naco na Pedra, or steak on the stone. It might not be exclusively Portuguese but I love it. You can find this at a number of restaurants, but the smaller the tasca, the better.
Most Surprising

Mike: Lisbon is no secret among tourists, and crowds can often be overwhelming. So, we've been shocked by how often we'll visit a beautiful palace or church, and find it practically empty. We've been nearly alone at the Palace of Ajuda, the San Bernadinho Pumping Station, the São Vicente da Fora, the Museum of Decorative Arts and even the cloister of the city cathedral.

Jürgen: We were definitely going to experience an evening of Fado, but for some reason, I had been dreading it. Not sure why, but I thought it would be a challenging style of music, and probably sad. But I was proven wrong; the music was totally fun, and I loved our night out!
Most Disappointing

Mike: To me, the most disappointing thing to me is how the local sentiment has turned against tourism. It's totally understandable; Airbnb is pricing residents out of the old town, and the mass tourism of cruise ships really is awful. But still, it's hard as a guest to be confronted with the idea that you're unwanted, whether it's through the anti-tourist graffiti, or the frankly shitty attitudes of many people you'll encounter.

Jürgen: Airbnb. It's terrible that locals are being driven out of their apartments, and how entire neighborhoods have basically become hotels now. Yes, we are visitors as well, and shoulder some of the blame. But the fault mostly lies with greedy locals buying up properties for the express purpose of renting them out online. You can't really blame tourists for taking advantage of an option that exists. But the Airbnb madness has to stop!
Funniest/Weirdest

Mike: I've noticed that, with fish, they don't ever serve lemon. Lemon comes on the plate when you order pork. And there is never, ever, any salt on the table. Maybe everyone in Portugal eats so much salty cod anyway, that there's never been the need.

Jürgen: I can't believe tourists would line up in a chain restaurant when there are so many family-run tascas struggling to survive. Same price for a meal as at McDonald's, but at the tasca, you get a lot more: soup, a home-cooked meal, wine, dessert, coffee, and the knowledge that you're not eating at some horrible chain.
How Expensive? From 1 (cheap) to 10 (expensive)

Mike: 5. Lisbon is about as middle-of-the-road as it gets. Very cheap food and drink, cheap museums and sights. And then very expensive lodging. Rentals have shot through the roof, with Airbnb and the ascension of Lisbon as a hip destination. It's almost impossible to find something affordable.

Jürgen: 5. Finding an affordable apartment seems nearly impossible, although we've been lucky. Overall, living costs are pretty good.
People from Lisbon Are…

Mike: This is usually where I praise the people of a place for their friendliness, but I just can't do that with Lisbon. Of course, many of the people we've met have been great, but some are the rudest people we've encountered in all our years of travel. And what is this thing, where everyone on the bus claims the aisle seat, leaving the window seat empty? It's so rude, scoot over! Don't you see the old lady standing next to you? Of course, this happens occasionally in any city, but pay attention: it's a phenomenon in Lisbon.

Jürgen: … usually friendly and helpful, but you can't expect such kindness in the touristic areas. There, you'll find the regular locals to be done with tourists, they can have very limited patience.
Lisbon in Three Words

Mike: Hilly, Historic, Melancholy

Jürgen: Pasteis, Trams, Fado
-Find us on the Blockchain: Sola & Steemit