Making Tiles at the Cerâmica São Vicente
I wouldn't have guessed it before arriving, but a big part of our Lisbon experience has had to do with tiles. They cover the facades of the city's buildings, decorate its churches and palaces, and are even the subject of a popular museum. So it seemed natural to visit a workshop, where they're still being made the old-fashioned way. The family who runs the Cerâmica São Vicente was kind enough to invite us inside and introduce us to their craft.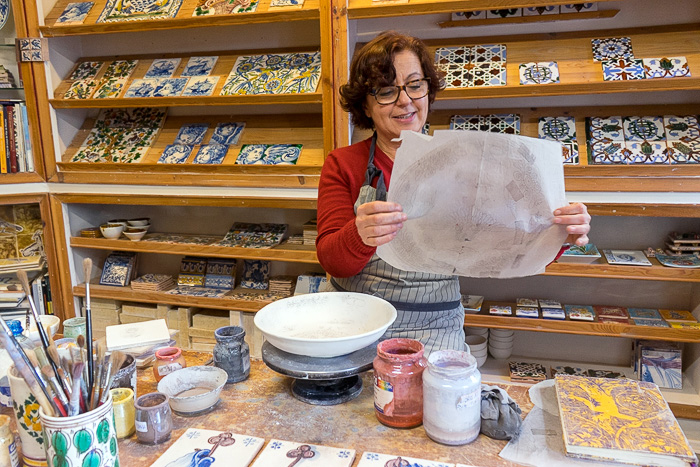 In this day and age, most of Portugal's azulejos are produced by factories, but there's still a huge demand for hand-crafted tiles. And that demand is actually growing, according to Cristina and Miguel: the mother and son team we met at Cerâmica São Vicente. Not only are tiles are back in fashion for home decoration, but there's been a current upswing in the restoration of tiles inside Lisbon's historic buildings. And the trend has been good for business.
We stepped inside the small studio on a Monday, just after lunch, and had the chance to watch them work. While painting, Cristina described the colors they were using: mostly cobalt blue, but also copper (green), iron (red) and sulfur (yellow). After making an outline of the pattern with a carbon stencil, they would paint right onto the prepared tile. Once the paint has dried, the tiles are baked in a small oven in a corner of the workshop, for sixteen hours.
Cristina and Miguel demonstrated a couple techniques, and then showed us pictures from one of the churches whose tiles which Cristina helped restore. Except for a slightly more-vibrant color, you would never be able to tell the old tiles from the new.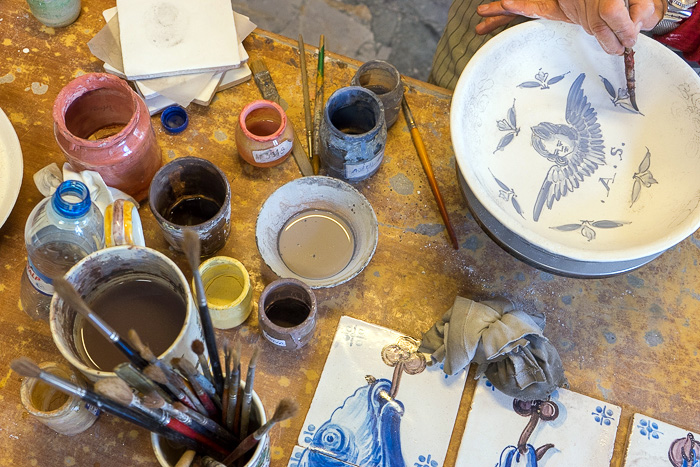 The Cerâmica São Vicente is small, and because it's their workshop, it's not really a great spot for big tourist groups. I think the last thing they'd want is twenty people cramming inside to gawk and take pictures while they worked. But at the same time, Cristina and Miguel are very friendly and happy to answer questions for those who are curious about what they do.