An Evening of Fado at Alfama's TascaBeat
Largely unknown outside Portugal, the musical style of fado is a big deal in Lisbon, where it was born in the early 19th century. On a chilly Sunday night, we were introduced to the mournful music at the TascaBeat do Rosário, a tiny joint tucked away in one of Alfama's many hidden corners.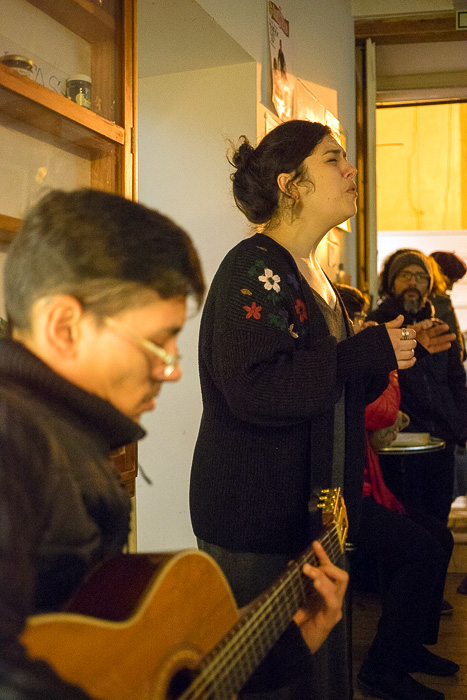 We've heard Lisbon described as a sorrowful city in love with its own grief. And that seems about right, especially in the winter, when fog is blanketing the hills, and yet another rainstorm is rolling in. There's something downcast about Lisbon, but romantically so. The city is like a forsaken lover, staring dejectedly out her window… she's still beautiful, but given over to melodramatic despair.
So it's fitting that the music most identified with Lisbon is known for its spirit of saudade, or longing. Fado has sorrow in its heart, with songs about lost loves, the struggles of life, poverty, and the travails of life upon the open sea. It's a simple style, traditionally employing just a single Portuguese guitar and a singer. The songs are generally short, tell a story, and — most importantly — convey a feeling.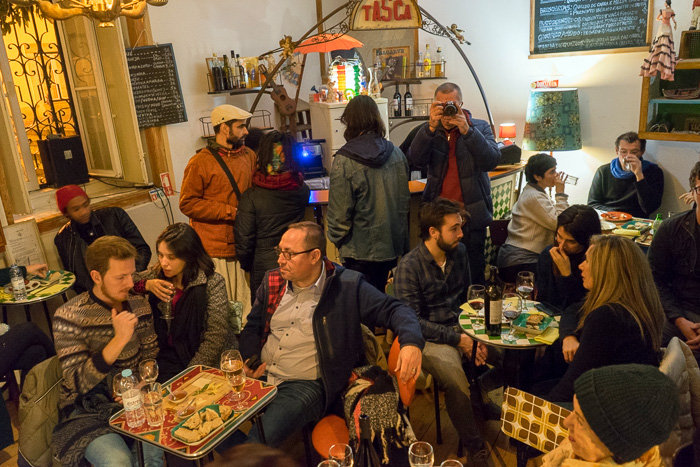 Lisbon is packed with fado bars. In Alfama, it seems that every place is advertising nightly sessions. Most are geared toward foreigners, with package evenings that include dinner and a show. But for our first fado experience, we wanted something less touristy, so asked around. And while it'd be a stretch to claim that the bar we ended up at was "the best in Lisbon", but it's hard to imagine a place which would have been better than TascaBeat.
Here's a good sign that the TascaBeat is a cool spot: despite having maps on our smartphones, we got lost trying to find it. As rain started to patter down onto the cobblestone streets, we were doing loops around Alfama, getting slightly frustrated. Eventually we found the place, and were lucky to grab the last table, squished literally between the guitar player and a Portuguese woman who turned out to be the first singer of the night. I almost fell out of my chair when she belted out the first lines, right behind me.
I wasn't sure how I was going to respond to fado… "mournful" isn't exactly my preferred genre. So it was a pleasant surprise when the songs turned out to be much more engaging and upbeat than we had expected. We loved the format of the show at TascaBeat; it wasn't just a single singer, but a constantly rotating procession of artists who seemed to be making tours of all the bars in the area. There were some who were genuinely wonderful, others who were less so, and at least one who was just bizarre (yes, I'm looking at you, Serbian dude!)
Overall, we had a great time watching fado. If the songs were sorrowful, you couldn't tell by the buoyant mood among the crowd. And we couldn't understand the words anyway. Should you be looking for a cool place to check out Lisbon's signature sound, you could do a lot worse than the TascaBeat.