Elevator to the High Life: Bica and Bairro Alto
The Ascensor da Bica is both the newest and the most popular of Lisbon's three remaining funiculars. It connects the party zone of the Pink Street to the party zone of Bairro Alto, along the party street of Bica… the operative word seems to be "party". Friday night seemed like a good time to take a ride.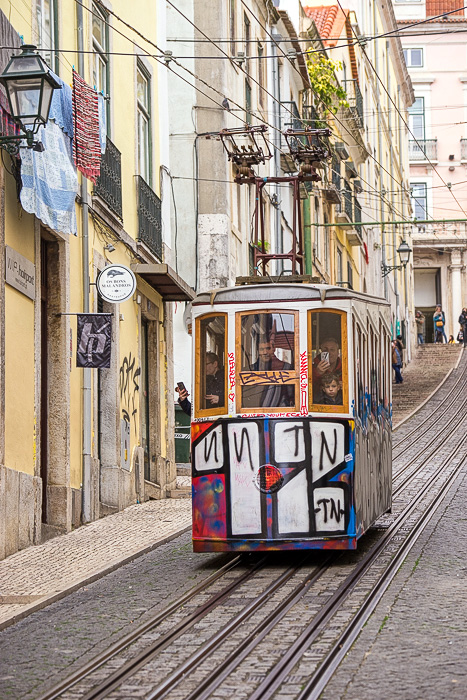 Having already visited the funiculars of Lavra and Glória, we needed just one more to achieve the trifecta. The Ascensor da Bica was built in 1892, and you access it through a beautiful arched facade on the Rua de São Paulo. Two cars run simultaneously in opposite directions, and the ride takes just a few short minutes to complete. Because it's in such a lively area, this is probably the most entertaining of all Lisbon's funiculars. As we ascended, we looked greedily out upon Bica Street's unbroken lineup of bars, and watched as a couple kids jogged uphill alongside the car, just to prove they could.
The Bica drops you off in Bairro Alto, which literally means "Upper Neighborhood". A plateau looking over the lower city, this has traditionally been an upscale place in which to live. The shops of Chiado define its southeastern corner, and the neighborhood extends along rectangular blocks toward the north.
Today, Bairro Alto is primarily known as a spot for bars, restaurants and nightlife. Most of the long-term residents have moved out, as hostels and tourist apartments have moved in. Having spent a couple fun nights in this area, we were shocked when we visited during the day. The neighborhood might as well rename itself Bairro Vampiro, because when the sun is out, it's dead.
Gentrification has basically been unchecked in Bairro Alto. And while that means there's been significant investment in the area, we felt as though its soul has been lost. At lunch time, we wandered the empty streets, searching in vain for an affordable tasca, but encountering only trendy joints with hip names like Decadente and Local ("where locals eat", the English-language sign dubiously proclaims).
But in the night, Bairro Alto is great. There are a lot of foreigners, but also a good number of young Portuguese people out for a fun time. We loved the Park Bar, hidden away on the top of a parking house, and the many joints we visited on Bica Street, all of which serve up ultra-cheap drinks. The Bar Belo da Bica was especially good; with a soundtrack of Cape Verdean music and super-friendly owners, it's an excellent spot to end the night.
Locations on our Map: Ascensor da Bica (Lower Entrance) | Park Bar | Bar Belo da Bica
–Download Our Lisbon Travel Blog