The Museu Nacional dos Coches
Located in a riding hall adjacent to the Belém Palace, the National Coach Museum displays carriages from the days of the Portuguese royalty. The museum is actually spread across a couple buildings in Belém, but we decided to limit ourselves to the more historic of the two.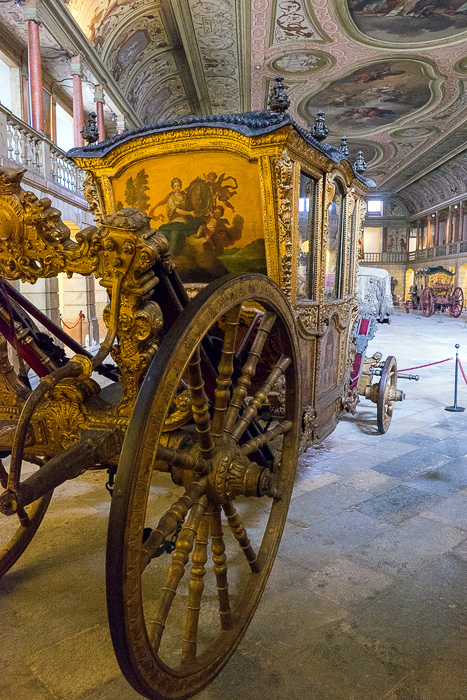 The Museu Nacional dos Coches was commissioned in 1905 by Queen Amélia, who recognized the historic worth of the carriages in the possession of the royal family. Just three years after the establishment of the museum, revolutionaries would shoot the king and spark the revolution which ended the Portuguese monarchy forever. Inequality was one reason for the public's anger, so ostentatious displays of exaggerated wealth like (ahem) a coach museum, might not have been the best idea.
Luckily, the rabble didn't torch Queen Amélia's carriage collection, which has survived intact to this day. Overall I'm glad that I don't live in a world where I'm expected to remove my hat and bow as the royalty rattles by in their ridiculous coaches, but I can still appreciate how cool these things are. The models date from the 16th century onwards, and each of them are exquisite works of art.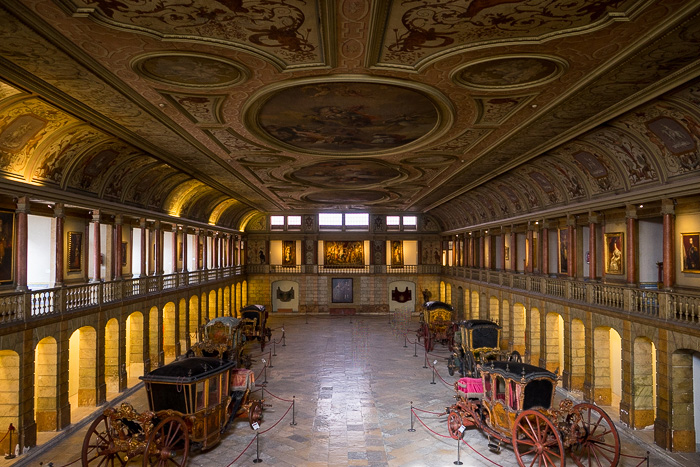 When we paid for our ticket, we had a choice to see the smaller collection in the palace's former horse riding hall, or the larger collection in a more modern building across the street. Or both. It wasn't a hard decision… the smaller collection is in a much more beautiful building, and has about a dozen cars: more than enough to satisfy our curiosity of Baroque carriages.
We were almost as impressed with the former garage as with the carriages themselves. Lined with small arches and capped by a ceiling bedecked in paintings, this hall hasn't changed for over 100 years, since Queen Amélia chose it as the spot for her museum. The collection doesn't take long to visit, and the price of entry is very reasonable, so there's no reason to pass this one up if you're already in Belém.
-Follow Us To the Blockchain! Find us on Steemit and Sola