The Cistern and Neighborhood of Amoreiras
The neighborhood of Amoreiras is best known for its mall, encased within towering glass buildings that are visible from across Lisbon. We wouldn't be visiting Amoreiras, though, for its luxury shopping or modern architecture, but to see something more ancient: the Reservatório da Mãe d'Água, a cistern built in the 1740s.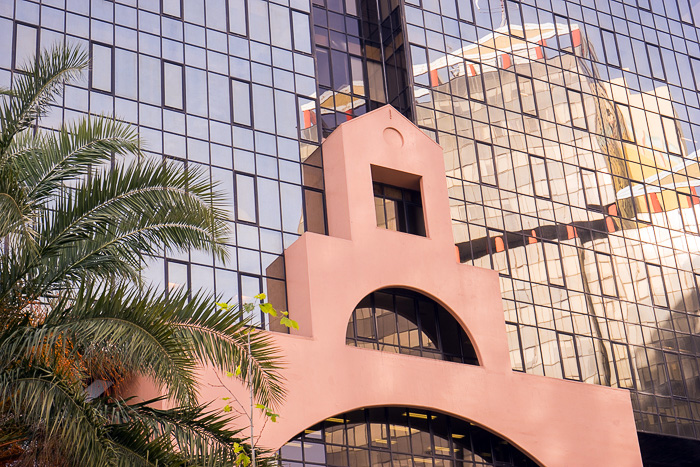 I should be honest. We were, in fact visiting Amoreiras for its modern architecture. Our plan was to ascend to the 360° viewpoint found atop the Amoreiras Shopping Center. We arrived, however, right as the Portuguese Witching Hour was striking. Between 1 and 2pm, a huge percentage of sights, shops, and museums shut down for lunch, and this viewpoint was no exception.
Jürgen looked at me with some frustration, and asked what we were going to do instead. I'm not always so well-prepared, but this time I had a backup plan in mind. "Well, there's a cistern nearby." Like the thunder of a rapidly-approaching storm, Jürgen's discontent started as a rumble in the base of his throat, and I knew I had to hurry. "I think it's really old!" [Grumble … the first drops of rain] "And it's supposed to be… uhh… photogenic!" [Boom! … totally drenched, lightning all around] "Well it's either that or we sit around the damned food court in the mall for an hour!"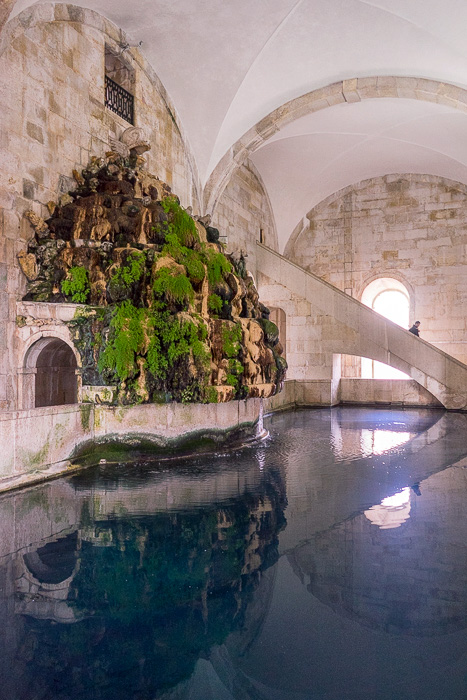 As is so often the case when you have no expectations, the Reservatório da Mãe d'Água turned out to be a great surprise, as did the neighborhood of Amoreiras itself. To be blunt, the Amoreiras Shopping Center is an eyesore, and the buildings surrounding it are big-league finance companies or banks or something, I'm not sure exactly, but the high-heels and suits pouring out around lunch time definitely look like they might know what "counter-cyclical stocks" are. Not really our type of scene.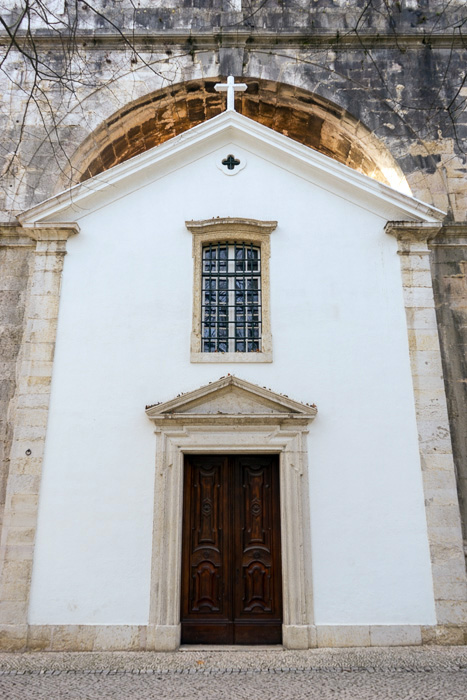 But there's a pocket of Amoreiras which is much more agreeable, and the ancient aqueduct is a clue you've arrived. Here, you'll find defunct tram lines, small houses, a nice park with a popular kiosk, and a church wedged in between the arches. This aqueduct is actually a continuation of the Aguas Livres which had we walked across, weeks prior. Here, the water used to round a bend, marked by a gate over the street, and pour into the cistern.
"Big, Empty and Echoey" are probably not terms that normally get the tourism juices flowing, but the interior of the cistern is something special. Water once flowed from the aqueduct into this room, the mouth of a sculpture which has grown mossy and alive, and into a huge pool. Today, a stage has been built in the middle of the pool, but this is the only unfortunate addition to a place which otherwise looks the same as it did centuries ago.
In Lisbon, viewpoints are a dime a dozen, and we were happy to have traded the Amoerias 360° for this beautiful old piece of architecture. The neighborhood surrounding it, too, has an appealing vibe. This is the location of the wonderful Procópio Bar, which we had already visited… a warm and cozy place, which feels right at home here.
Locations: 360° Viewpoint | Reservatório da Mãe d'Água | Procópio Bar