Our Favorite Tascas in Lisbon
You're never going to find us making a list of a city's trendiest restaurants or breathlessly extolling its cutting edge cuisine. No, our tastes are a little more humble. What we appreciate is a local atmosphere, good prices, and tasty food typical of whatever region we're in. Decent wine doesn't hurt. The smaller and more crowded the place the better, especially if ours are the only foreign faces to be seen. Scooch over, avó, and what's that you're eating? Cod stew? I'll take the same!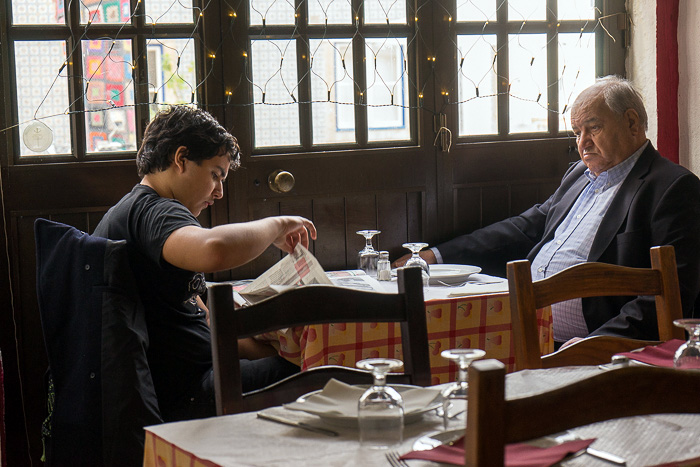 You'll find that the list of our favorite tascas over three months in Lisbon skews toward Mouraria and Graça. That's because these are the two neighborhoods in which we lived. For that reason, please don't take what follows as a "Lisbon's Best" guide. That would be a ridiculous undertaking, considering the sheer number of tascas and their generally standard level of quality. (On the other hand, a list like that would make great click-bait… maybe I'll rename this post "Lisbon's Eight Best Tascas, You Won't Believe Number 7… And Then This Happened!")
Anyway, we ate at a lot of tascas, and thought it'd be nice to share our favorites. These might not have the city's best cuisine, and I'm sure there's a few that might make you scratch your head and wonder, "Why in the world would Mike & Jürgen love this place?" But for one reason or another, these are the ones which have stuck in our memories.
Restaurante Santa Rita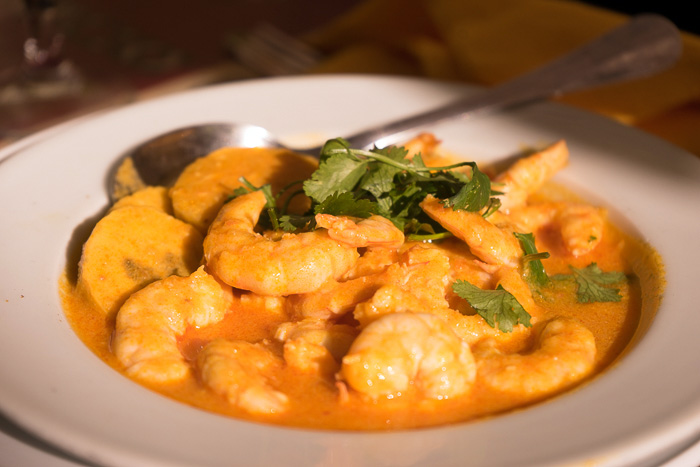 I have no idea how, but the Santa Rita has managed to go largely undetected by tourists, despite its location in Alfama near a couple of the city's most touristy streets. The restaurant is big, bathed in light and always crowded at lunch time, mostly with locals on their lunch break. For the quality of the food, the prices are almost unbelievable — but that's going to be the case at every restaurant on our list, so I won't harp on it. [Location]
Imperial de Campo de Ourique
Lisbon is a city on the rise, which is mostly great, but the trend also comes at a price. Older and less wealthy residents are being squeezed out of neighborhoods which have suddenly become fashionable. That goes for tascas, too, as family-run joints that have been around for generations can no longer keep up with the rising rents.
Nowhere is the gentrification of Lisbon more palpable than in Campo de Ourique, an area which has become hip with expats and young, well-off Portuguese. It's not to say we didn't like Campo de Ourique, because we did; we actually think it's managing its gentrification quite well. But at lunch time, we scoured the streets in vain for an affordable tasca. Cutesy hipster places abound, but we just couldn't find a regular, cheap Portuguese joint.
Right before giving up, we stumbled across the Imperial de Campo de Ourique. This place looks like it's been around forever… and if the lunchtime crowd is any indication, it might just survive the neighborhood's transition. Apparently, some of Campo de Ourique's new ruling class have decided that having at least one old-school tasca is just retro enough to work. [Location]
Restaurante João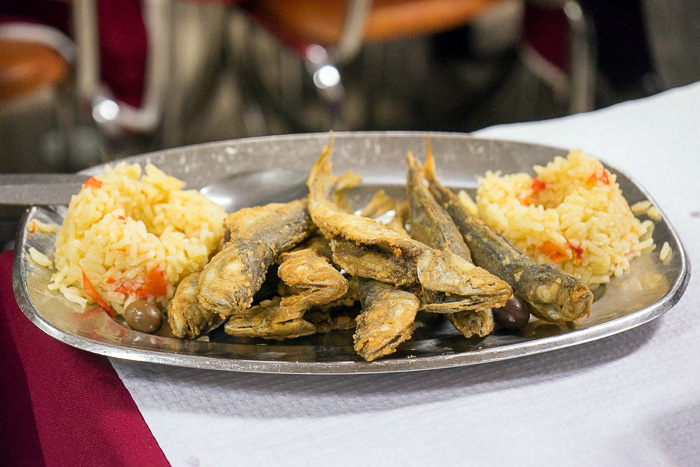 This Graça institution, hidden away on a backstreet near an old city arch, is the restaurant to which returned more than any other. That's possibly because it was literally 20 seconds away from our apartment, but probably has more to do with the place itself. This is the prototype of our perfect tasca. Always crowded with locals, incredible prices, a menu which changes daily, friendly service, a slightly-chaotic atmosphere, and reliably excellent food. It was here I discovered a lot of my favorite Portuguese specialties, such as Caldeirada De Peixe (fish stew). [Location]
Carvoaria Colonial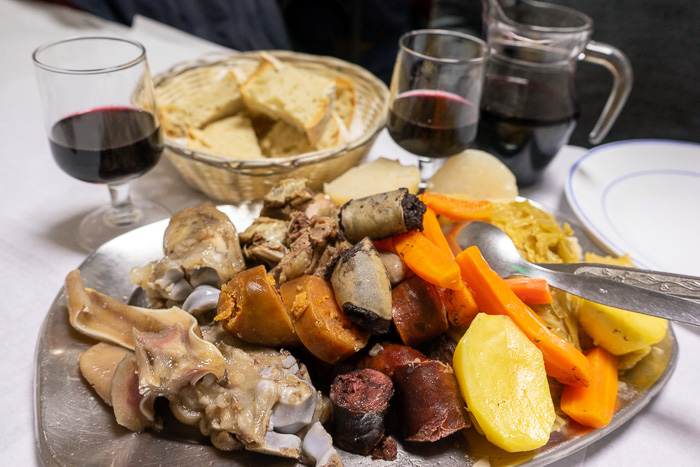 The Carvoaria Colonial will always have a special place in our hearts, as it was our first traditional Lisboan tasca. We discovered it on our second day in the city, after having visited the Mosteiro dos Jerónimos. On the day we ate here, the only item on the menu was called the "Cozido a Portuguesa"… which sounded kind of Portuguese. Sure, we'll take it!
When they set the tray in front of us, Jürgen exclaimed, "Schlachtplatte!" … German for "Slaughter Plate". And that's what it was: blood sausage, pig's feet, regular sausage, ribs, I think that's a tail, and then another kind of sausage. It was a shock, but the waiter kept bringing us wine, and with the support of the two amused Portuguese guys next to us, we got through almost all of it. [Location]
Marco dos Correios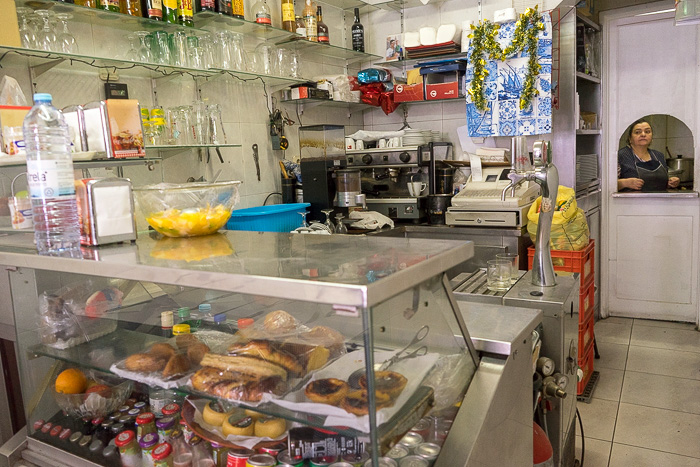 There is absolutely nothing remarkable about the tiny tasca called Marco dos Correios, located on a non-descript corner of Mouraria. And that's precisely why we loved it. Often, when we didn't feel like thinking about food, we would find ourselves here. It was easy, cheap and pretty good. The TV was usually switched onto the news, there was some guy standing at the bar drinking a ginja, and the waiter always seemed confused that these two weird foreigners were here again. [Location]
Cozinha Popular da Mouraria
Literally right around the corner from Marco dos Correios is a curious place which I hesitate to even call a restaurant. It's certainly not a "tasca" in the traditional sense. The "Popular Kitchen of Mouraria" is more a neighborhood social project. By eating lunch or dinner here, you're contributing directly to a free weekend lunch for the neighborhood's elderly and less well-off residents.
It bears saying that this isn't exactly the finest cuisine in Lisbon, but neither is it horrible. It's kind of like, what a moderately-skilled but disinterested mom might make on a typical weekday. Anyway, the reason to visit this place is its bizarre atmosphere. It's as though someone has opened up their garage for the neighborhood to have a party. You're invited into the kitchen to pour your own wine (out of a box, naturally), and you could probably even help clean up if you were so inclined. The price for everything, including coffee after your meal, is a ridiculous €5. For such a tiny fee, this is a project worth supporting. [Location]
Restaurante Cabaças
We visited this restaurant in Chiado a few times, always at night, always with friends, and we always ordered the same thing: naco na pedra, or meat on the stone. Sit down, fix your napkin into your collar, grab your fork and knife, and allow your eyes to widen in giddy anticipation, as a thick slab of raw steak is slapped onto a sizzling hot stone. It's delicious, rowdy, different and fun. The smallish restaurant can get really full, so reservations are a must. [Location]
Zé dos Cornos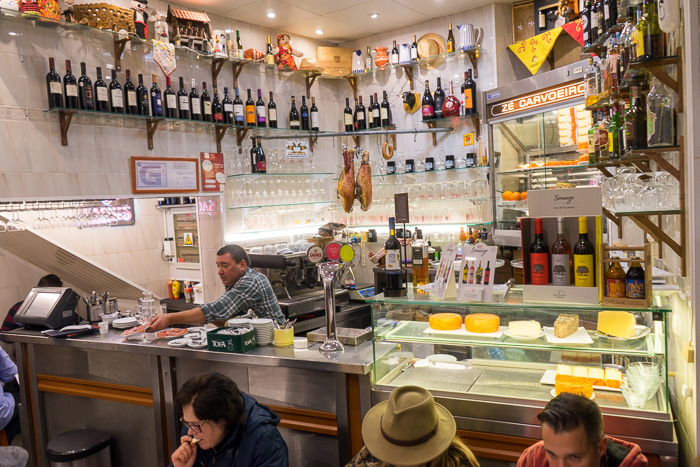 One of Mouraria's most beloved tascas is Zé dos Cornos, found near Praça Martim Moniz. This one isn't exactly a secret, as it's definitely on the radar of the more clued-in tourists, but there's a reason that it's so popular. Incredible grilled meats and fish in a classic setting, right in the heart of Lisbon… nowadays, it almost comes as a relief when a place which should be ridiculously popular, actually is. [Location]