The Lisbon Oceanarium on the Holidays
One of the biggest aquariums in Europe is the Oceanário de Lisboa, which opened as part of the 1998 World Expo. We visited during the holidays, and were amazed to be the only people there! Not a single screaming child, pushy mother or frazzled father; nope, just us, gloriously alone with the animals. (If you're not picking up on the sarcasm, it's time to readjust your irony detector.)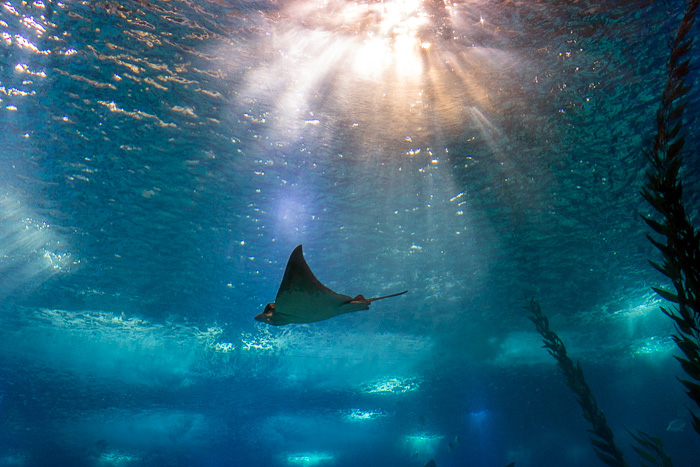 No, we were not alone in the Oceanarium, quite the contrary. This was a drizzly day between Christmas and New Year's, when every child is free from school, and every unimaginative parent grasps for the same straw. Upon seeing the line, we should have turned around… but we were in the same boat. Our friend from Germany was visiting with her six-year-old child, who was already frothing with our promises of sharks and penguins. There was no backing out now. Steeling ourselves for agony, we joined the queue.
Lisbon's aquarium is decent, and we would have enjoyed ourselves on a less-crowded day. But to be honest, it isn't as good as the Oceanografic in Valencia or plenty of others we've been to. The pens seem too small for some of the animals, particularly the penguins and the otters. And besides its central tank, there's a serious lack of things to see.
But that central tank is fantastic, and is the sole reason for the Oceanarium's exaggerated reputation. It's at the center of the cube-like building, and as you tour the museum, you're basically circling the tank. With around a hundred species, including amazing creatures like the giant sunfish, manta rays and terrifying sharks, the tank is very nearly worth the cost of entry by itself.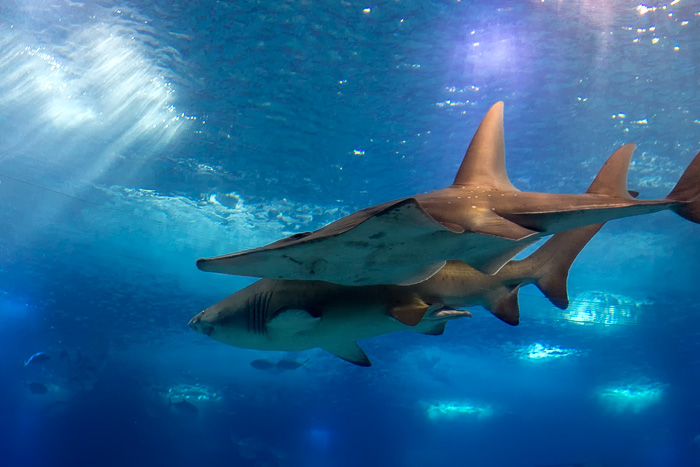 We're not joking, though, about how intolerable the Oceanarium was over the Christmas holidays. Please don't do this to yourself, as the crowds simply defy belief. Even the kid we were hosting was annoyed. To get to the window of the first attraction, she had to run an agonizing gauntlet crawling between legs and squeezing past flabby hips, and her reward was a couple sickly-looking puffins. "I don't like those parrots!" Those are puffins, kiddo. "Whatever. Can we go home now?"