Christmas Eve at the Cristo Rei
What is it that Christians are supposed to ask themselves? Ah yes… "what would Jesus do?" Well, if Jesus were alive in Lisbon on Christmas Eve, he'd definitely visit the huge statue of himself in Almada. How could he resist? I bet he'd even take a selfie, posing with his arms up in front of his own likeness. Jesus is so meta.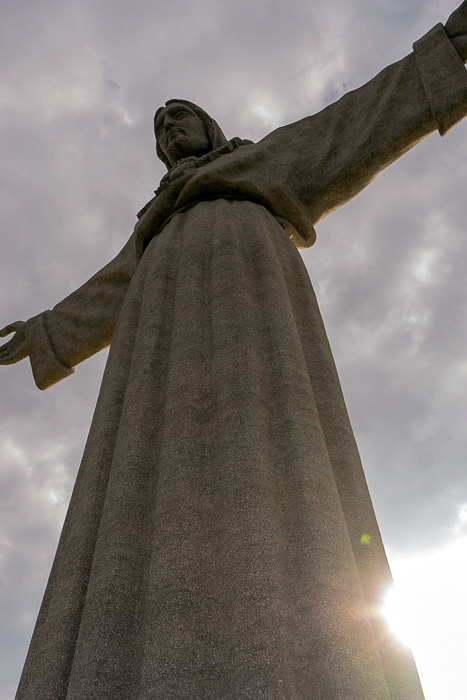 Jürgen and I will never be accused of having an excessive love for Jesus, but we appreciate a giant statue as much as the next guy. So, with nothing better to do on Christmas Eve, we took a trip across the Ponte 25 de Abril to visit the Santuário de Cristo Rei in Almada. This massive statue was constructed in 1959, after a Lisboan cardinal had visited Rio de Janeiro's famous Christ the Redeemer. Officially, Lisbon's new statue was meant to give thanks to God for keeping Portugal out of World War II.
As far as visiting the monument, what you see is what you get. This is just an enormous statue of Jesus, with a privileged position overlooking Lisbon from the other side of the Tagus. The views are as excellent as you'd imagine, but there's not much to do apart from gazing out over the platform's railing, and visiting inside a small chapel within Jesus (which is also kind of meta, when you think about it).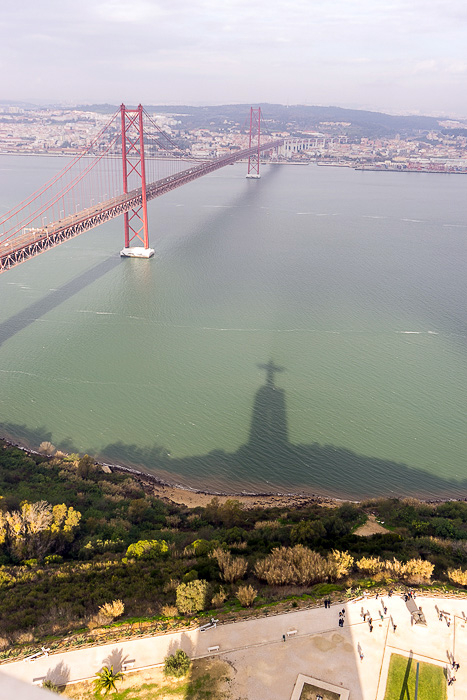 After finishing up at the statue, we took a 30-minute walk to the town of Cacilhas, through the village of Almada. While there wasn't anything specific to see along the way, this was a pleasant stroll, and we paused for a delicious and unbelievably cheap lunch at a local joint where tourists must be a rarity. After eating, we continued our stroll until the road ended at the ferry station, where we hopped aboard a ship for our return to Lisbon.
Locations on our Map: Cristo Rei | Cacilhas