A Christmas Gala at the Portuguese School of Equestrian Art
The Escola Portuguesa de Arte Equestre is one of just a few institutions worldwide which aim to preserve the art of classical dressage. Once a month, the school's riders perform for the public in Belém. We were invited to attend the Christmas Gala.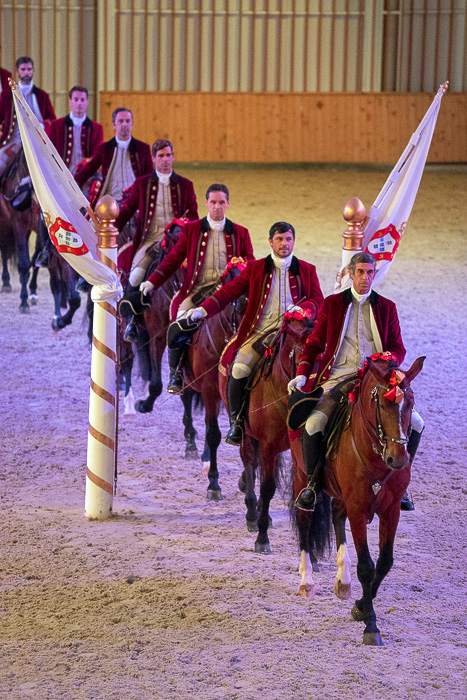 Historically, the school has been located at the Queluz National Palace, twenty kilometers outside the city, but it's recently moved to Belém, near the Ajuda Palace. Although the school in its current form was established in 1979, it has a history dating back to the royal courts of the 1700s. In Europe, there are just three institutions with a similar focus: the Royal Andalusian School in Jerez, Spain, the Cadre Noir in Saumur, France, and the famous Spanish Riding School of Vienna, Austria.
The mission of the school is to train horses in the Baroque style of the past. Riders are garbed in costumes from the period, they perform the same steps and engage in the same games. Even the horses themselves are direct descendants of those once owned by the kings and queens. These are Lusitanos, a large, dark-brown breed native to Portugal, originally bred as horses of war.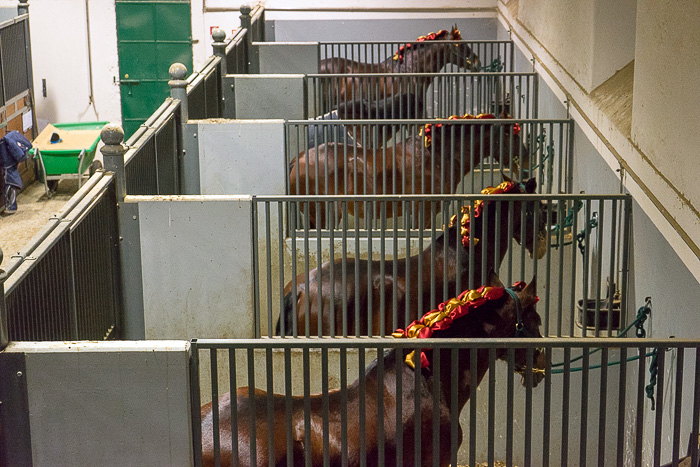 After touring the stables and watching the horses be brushed and prepared, we took our seats for the gala. It bears mentioning that Jürgen and I are not hugely into the world of the equestrian. The sum total of my experience with dressage came during the last Olympics, when I paused for five seconds to watch a horse jump, before continuing to search in vain for water polo. And that was competitive dressage, which was probably more accessible than the classical dressage we'd be watching tonight.
We might never be fans, but there are clearly plenty of people who enjoy this sport, because the arena was sold out for this Christmas Gala. Even ignoramuses like ourselves are able to recognize that these horses are beautiful. The riders performed a number of different steps and styles, and staged a small competition with four Baroque games, such as jousting a spinning dummy, and spearing rings.
The school presents these galas monthly, usually on the last Friday of every month. They're not cheap, but there are also daily practice sessions which you can attend for a fraction of the price. If you're into horses, you won't need us to convince you that this is a special experience.