Lisbon's Unbelievably Cool Military Museum
You probably wouldn't think that Lisbon's Military Museum would be anything special. Nobody ever talks about it, and it hardly appears in travel guides. You'll never find it on a "Best of Lisbon" list. So when we showed up on a lazy day during which we had nothing else to do, our expectations were low. But this turned out to be a major surprise; in fact, it was one of the coolest museums we saw during our time in the city.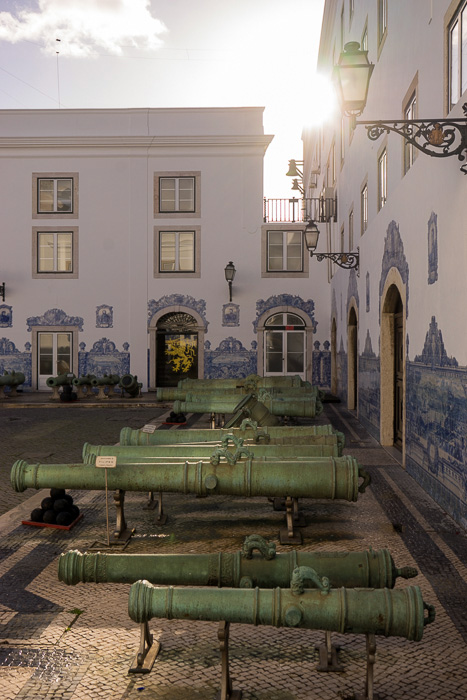 The exhibits of the Military Museum are about what you'd expect: old cannons, uniforms, armor, guns, swords and stories. It's all nicely presented, but the pieces themselves aren't going to knock your socks off. The building itself, however, will. This former arsenal of the Royal Army, converted into a museum in the mid-19th century, is absolutely stunning.
Nearly every room of this palace-like structure is breathtaking. With sculptures, tiles, paintings, and gorgeous ceilings and floors, each of the dozens of rooms is better than the last. And apart from the guards, Jürgen and I were all alone, despite the museum's prime location in central Lisbon near the cruise ship port, and the mere €3 cost of entry.
Whoever was in charge of concealing Lisbon's hidden gems was fairly brazen about it, because they all seem to be in the middle of heavily-frequented areas, in ostentatious buildings that are impossible to overlook. But the crowds have been non-existent at amazing spots like the Royal Geographic Society near Praça Rossio, the Museum of Decorative Arts next to the Miradouro das Portas do Sol, and now the Military Museum.
Although they might not rate in TripAdvisor's top ten, don't pass up the chance to visit some of Lisbon's lesser-known museums. They were some of our favorite experiences.