LX Factory: The Discerning Hipster's Consumerist Dream
Set inside the sprawling confines of a former manufacturing complex in Alcântara is the LX Factory: a collection of almost painfully cool shops, galleries, restaurants, and offices. We spent an entertaining afternoon poking around the merchandise, browsing a stunning bookstore, and grabbing drinks at a bar on top of the factory.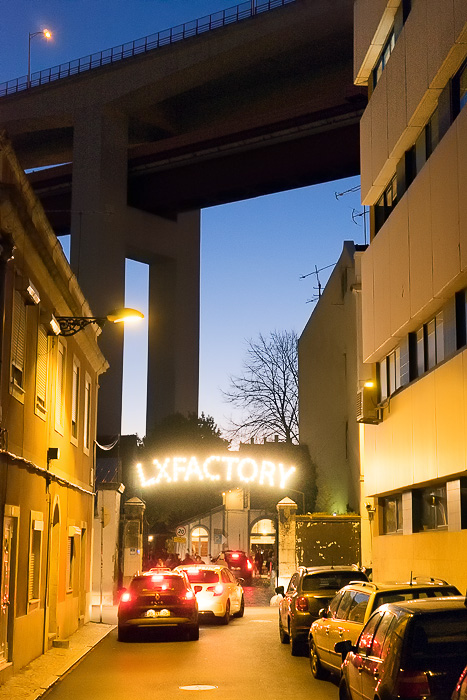 The LX Factory occupies the former "Companhia de Fiação e Tecidos Lisbonense", established in 1846. The 23,000 square meter site sat for years in disuse, until its industrial charms were discovered by young entrepreneurs looking for an affordable, cool place in which to work. We've seen the same thing in other former manufacturing centers; the old RCA building in Montreal springs to mind, as does the Santral?stanbul and (on a smaller scale) Djupavík's herring factory, in Northern Iceland.
As even occasional readers of our blog will know, Jürgen and I react allergically to the hipster aesthetic. But we're willing to admit that it can also be genuinely cool, and at the LX Factory, this is more often the case than not. Yes, there's the token burger joint, charging $12 for ground beef because chia-buns or truffle-sauce or whatever, and I'm pretty sure I saw a cheesecake shop, but the majority of stores are legitimately interesting. Retro furniture, fun knick-knacks, great art, and clothes I might actually wear.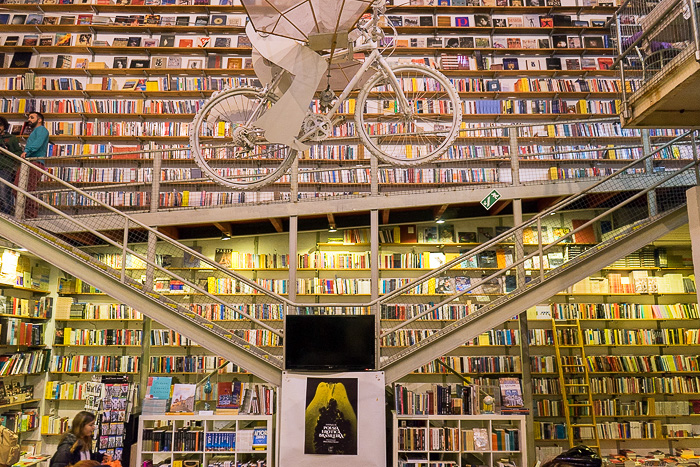 Our favorite place in the LX Factory is the Livraria Ler Devagar, a cavernous warehouse crammed full with books. The shelves reach three stories up along the walls, with ladders available to reach more far-flung titles. At the top of the metal staircase, in the center of the room, you'll find antique newspaper printing machines.
After having completed our loop around the LX Factory, we entered the massive hall which acts as its hub, where a number of start-ups and studios now have their offices. Architecture studios, co-working spaces, advertising firms, a photography studios, and even a pole-dancing school are just some of the tenants who enjoy the space.
On the top floor is Rio Maravilha, an awesome bar which opens up into a two-story terrace overlooking the nearby Pont de Abril 25, memorable for its patchwork naked lady statue, mirroring the Cristo Rei across the river. We grabbed drinks and sat down to enjoy the view, feeling … not quite like hipsters, but definitely hipper.
LX Factory – Location | Website
–We Curate your Travel Content