You wake up groggy and semi-conscious, surprised to find yourself in a low-flying plane. Your arms are tied behind your back, but you manage to lift your head and look out the window. The villain appears and, pushing a knife against your neck, screams "Where are we? Right answer, you live!" You look through the window again. Are those trams? Hills? And, hah! The bastard shouldn't have flown past the bridge. Everyone knows the bridge. Making eye contact, you smirk. "San Francisc…" And then he cuts your throat all the way through.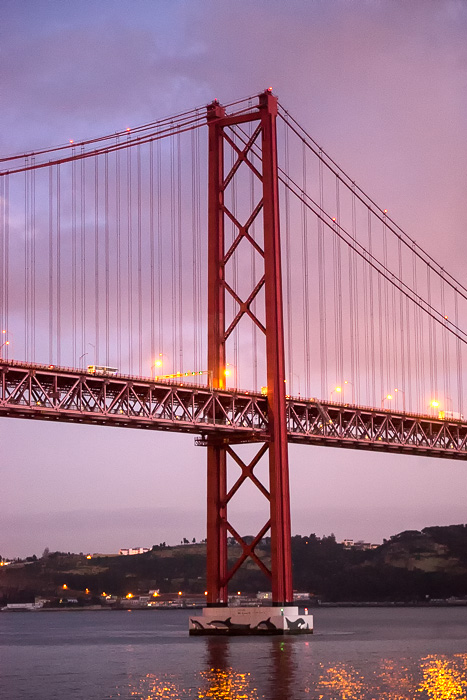 Sorry, flyboy. You were in Lisbon. And if only you'd had a few more seconds, you would have realized it. The Ponte 25 de Abril does resemble the Golden Gate, but it's not nearly as long, nor as high, nor is Alcatraz to be seen anywhere in the distance. If only you weren't flopping around in your own blood like a fish, you'd be able to see all those things.
Of all the ways Lisbon's iconic bridge differs from the Golden Gate, the worst that there's no sidewalk for pedestrians. If you want a picture from the bridge, it's nearly impossible. We took a taxi across on our way to visit the Cristo Rei, but when we suggested pulling over for a picture, our driver just laughed, and kept right on motoring across. The traffic is always heavy, and pulling over is unthinkable.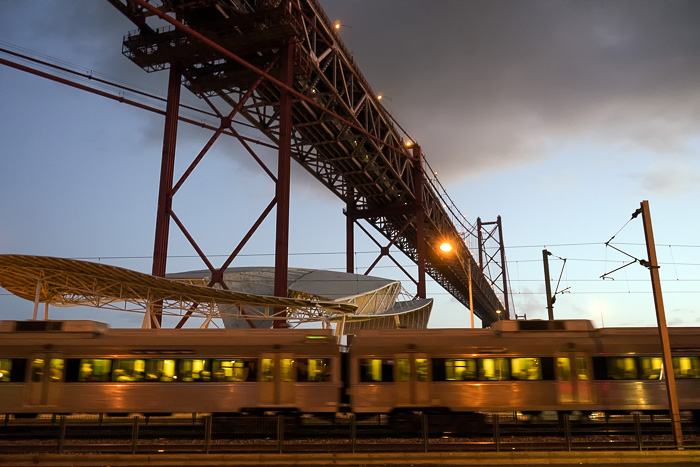 Luckily, though, there is an option for those who feel the need to get on top of this bridge. The Ponte 25 de Abril Experience allows people to ride an elevator to an observation deck which is at car-level. It costs €6 per person, which is more expensive than just taking a car across, but we decided to check it out anyway.
It might be overpriced, and it might be silly, and it might have the slowest elevator in existence, but the "experience" of ascending to the beginning of this bridge did manage to be somewhat entertaining. You can see the unbelievable mass of cables which support the bridge, learn about the construction process, and appreciate a decent view of Lisbon.
Of course, the real reason we had so much fun, is that we went with Jürgen's brother, who is terrified of heights. To send him into a panic, all I had to do was walk out onto the clear glass floor. Or pretend to jump. Or hold my cellphone out over the railing. "Look at this beautiful view, Mischko… but… why is the bridge so wobbly?! Suddenly so wobbly, Mischko! What's happening?!" (Jürgen and I both have younger brothers, and learned early in our relationship that, by combining forces, we can tease them exponentially. We've never claimed to be good people.)
Even if you don't have a younger brother to tease, the opportunity to visit this observation deck might just be worth it. Fans of large-scale engineering should definitely consider it, as should anyone who wants to see Lisbon from a different angle.