We love visiting markets at our various homes around the world, and were excited to learn that Lisbon has historic halls spread all across the city. However, once we started visiting them, we weren't always too impressed. The shopping culture in Lisbon seems to have been completely taken over by supermarkets, and the old-time markets which still exist are mere shadows of their former selves… or have become different creatures entirely.
Mercado da Ribeira (or the Timeout Market)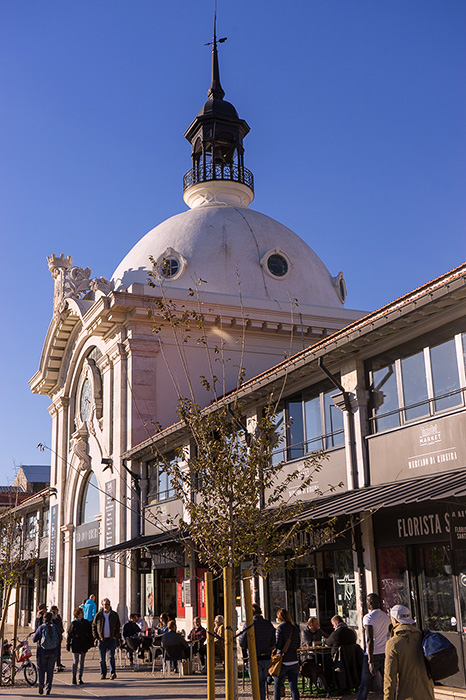 Let's start with the most famous: the Mercado da Ribeira, close to the Praça do Comercio. In our opinion, this place sums up everything that's wrong with Lisbon's markets in general. First off, consider that it's rarely referred to anymore by its original name. No, this has become the "Timeout Market", promoted by the British city magazine. The Timeout Market brings together some of Lisbon's hottest restaurants, allowing people to sample high-end cuisine without having to book a table.
That sounds good in concept, but in reality, the Timeout Market is just a glorified food court. Also: it's a nightmare. The place is ridiculously popular, and trying to secure a seat at lunchtime is nearly impossible. The sudden appearance of a vacant stool results in a frenzy, as stressed-out people balancing trays fight to claim it. And you have to wait ages for your food; we went with a friend, and it took over 30 minutes for our food to arrive. One order was completely lost. It was easily the least pleasant eating experience we had in Lisbon, and by the time we finally left, we were in terrible moods.
The other half of the Ribeira Market at least makes a nod toward the produce and meat stands of the past, but it's still touristy and overpriced. We hated everything about this place. The worst is that, because it's such a hit, there's talk of bringing the concept to other cities. Shudder. But let me tell you something, you eager-eyed Timeout entrepreneurs: if you try this at our home market in Valencia, I will protest violently. I'm serious: molotov cocktails and a baseball bat, maybe even a hostage. This is your only warning.
Mercado de Santa Clara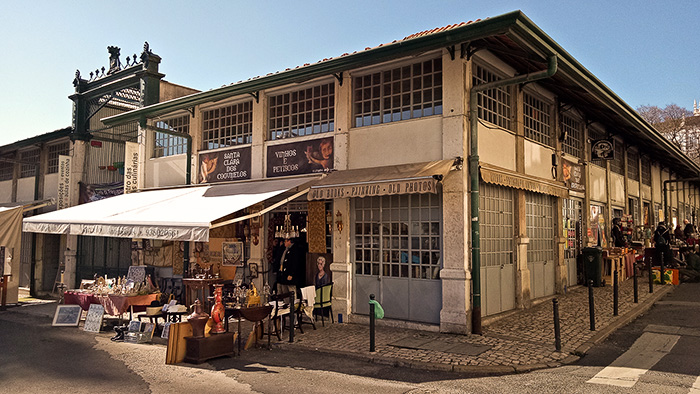 Here you have another old market hall that has simply not survived into the modern age. It's still used as a space for events and workshops, which I suppose is something, and has become a focal point for the Feira da Ladra which surrounds it on Tuesdays and Saturdays. The market opened in 1877, and its handsome building was one of the first in Portugal to be constructed of iron and glass.
Mercado de Campo de Ourique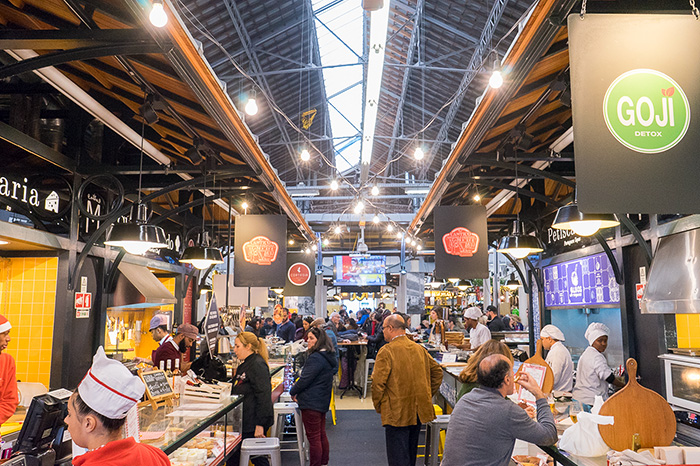 The centerpiece of the neighborhood of Campo de Ourique is its old market hall, built in 1934. Today, this market has experienced the same kind of transition as the Mercado da Ribeira, with a shift away from traditional fruits and fish stands, towards more upscale restaurants and shops. Ugh, prepare yourself for sushi and craft beers!
But although sushi and craft beers are definitely to be found here, we didn't hate this market quite as much as the Timeout Market. Mainly, it's because the vibe is better; fewer people, and far less hectic. Also, here we kind of understand the idea. It might be sad, but the days of traditional markets in Lisbon seem to be over. At the very least, Campo de Ourique is making use of its most beautiful space. Despite the odds, this market has become a popular place to hang out, and that can't be a totally bad thing.
Mercado de Alvalade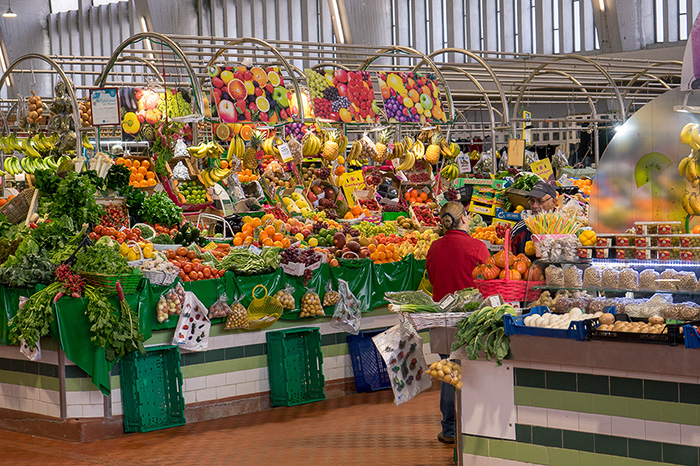 When we visited the neighborhood of Alvalade, we were thrilled to find (at last!) a real produce market. Fish mongers holding eels, carefully-balanced towers of apples and oranges, a bright and airy atmosphere… and almost no shoppers. Confused, we took a look around. Were these stands ripping people off? Was the fruit all old and rotten? But no! The prices seemed fair and there was a good selection!
But Alvalade's privately-owned market stands aren't ever going to compete with their neighboring competitor. Like a cancerous tumor, the German discount supermarket chain Lidl has opened a store literally attached to the market. We looked with astonishment at the long lines inside the Lidl, and then with despair at the lack of shoppers for the classic fruit stands.
This is a battle which, I fear, has already been lost. It seems a safe bet that, in five years, the Mercado de Alvalade will be emptied out. Maybe after that happens, trendy hipsters will be able to "rediscover" it, and breathe some sort of life back into the old hall. Sigh. It's the world we live in.
–Are you a Travel Blogger? We curate travel content!
Some more pictures and a video of the Mercado de Alvalade